MTN DEW is an expert at giving its consumers fun summer experiences, and tying its campaigns into a comprehensive theme. Summer 2021 was no different with MTN DEW's 100 Days of Baja! MTN DEW Baja Blast launched two new limited-time offer (LTO) flavors, sure to drum up some summer excitement: Baja Punch & Baja Flash.
The DEW team wanted to create an exciting campaign to drive new product trials, increase sales at retail locations, and generate overall excitement for the DEW brand. DEW, working with the agency Motive, designed a program to celebrate summer & the launch of the new LTO Baja SKUs.
DEW faced the challenge of validating & rewarding purchases at a large scale in a secure and insightful way. Once Identified, the experts at MRi put together a plan to solve the DEW team's challenges and achieve this promotion's purpose.
MRi got to work developing a solution to meet the challenges the MTN DEW team encountered. In order to securely validate and reward purchases, MRi put our unique code system to work. A huge success, this campaign generated 1,421,140 unique codes from 163,553 users. Thanks to our industry-leading secure unique code system, Marketing Resources Inc. was able to effectively handle each and every code without any instances of fraud.
DEW fans were able to find unique codes under the cap of specially marked Baja Blast products. With code in hand, consumers visited the promotional microsite at 100daysofbaja.com, registered with some basic contact information, and enter their codes for a chance to win awesome beach-themed instant win prizes daily PLUS get a sweepstakes entry for the Grand Prize $100k drawing at the end of the program. The DEW team identified great, relevant prizes that would motivate their consumers enough to enter the promotion. At the end of the campaign, DEW awarded a total of 10,000 amazing, fun summer prizes!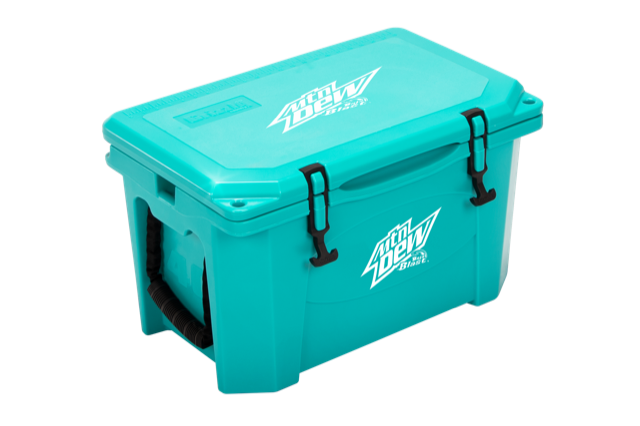 On the backend, DEW can see all the data and insights from the program thanks to our unique code system and real-time reporting tool. With this tool and our expert, consultative advice, DEW was able to keep a pulse on the promotion's results and extract valuable insights that helped them better understand their consumer's behavior. With over 1.2 million pageviews to the 100 Days of Baja site, the promotional microsite MRi created for DEW was an effective lead magnet, keeping visitors entertained and informed with an average time spent on the site reaching over 3 minutes!

MRi worked with the DEW team to create a fun, informative, and seamless microsite for the campaign. Our digital team put together a microsite that represented the DEW brand and also provides a positive experience for DEW fans. The microsite includes an interactive 3D element, where consumers can explore Baja Island and uncover how to win amazing prizes. The entire process proved to be dynamic, fun, and rewarding for consumers and the brand alike!