The Pepsi brand had a lot to draw from in its 120 years of Pepsi, from nostalgic designs and images, to eclectic music pairings, to a partnership with the NFL. To celebrate, it would only be fitting that Pepsi combined all the amazing aspects of their brand to create a year-long loyalty campaign to reward and incentivize their consumers.
Pepsi, MRi, and their partners were able to create an amazing on-pack program where consumers had a chance to collect unique codes found on specially-marked products, enter online, collect points, and redeem for amazing prizes ranging from retro jackets and scooters to NFL game tickets. Pepsi Generations kicked off the program with the nostalgic, retro-themed design on all the cans to celebrate 120 years of proud history, followed by the Summer Music Program, and capped off with the NFL program.
GENERATIONS
To kick off the campaign and celebrate 120 years of Pepsi, Pepsi Stuff went back in time to give fans nostalgic prizes such as retro coolers and varsity jackets.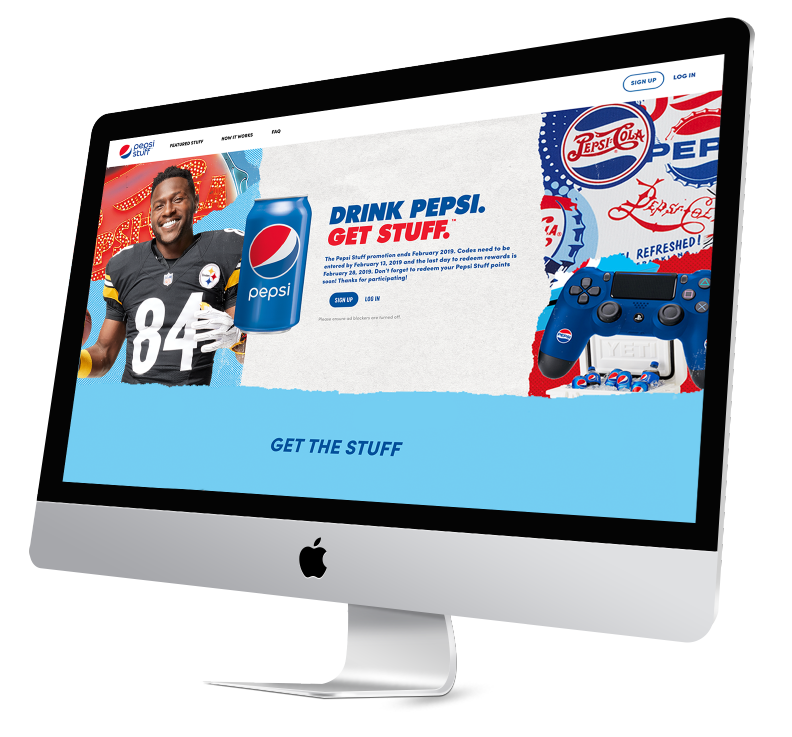 SUMMER MUSIC
For the summer, Pepsi Stuff gave fans the chance to earn summer music essentials. In addition, fans could win a chance to meet Brittney Spears and other exclusive experiences.
NFL
For the NFL season, Pepsi leveraged its strong NFL partnership to give fans an amazing chance to win football-themed prizes and experiences.