As we usher in a new era of the internet and its capabilities, consumers are increasingly demanding more from brands. Whether it's personalized outreach, more targeted ads and suggested products, or more effective automation (to name just a few), brands must adapt to remain competitive. Exclusive offers like limited-time or customized products or specific rebates and rewards offer brands another way to delight their customers.
Exclusive offers may be specifically targeted to consumers based on the information your brand has gathered from them. Or, on the other hand, they can simply be limited-time or limited-quantity offers available to your consumer base at large. Whichever method you choose, your brand can better engage with your target audience with a strategic exclusive offer.
Exclusivity by the Numbers
American consumers crave exclusive offers. Nearly everyone wants what others can't have. It's in our nature. But, just how important are exclusive offers to consumers? It turns out, they're essential and can be a significant motivating factor in consumer behavior.
In fact, 94% of consumers say they would take advantage of an exclusive offer, according to a study by Kelton Global, a leading insights firm. Furthermore, 58% of Americans report that exclusive offers would increase their likelihood to purchase a product, while 82% say it would increase how often they shopped with a brand.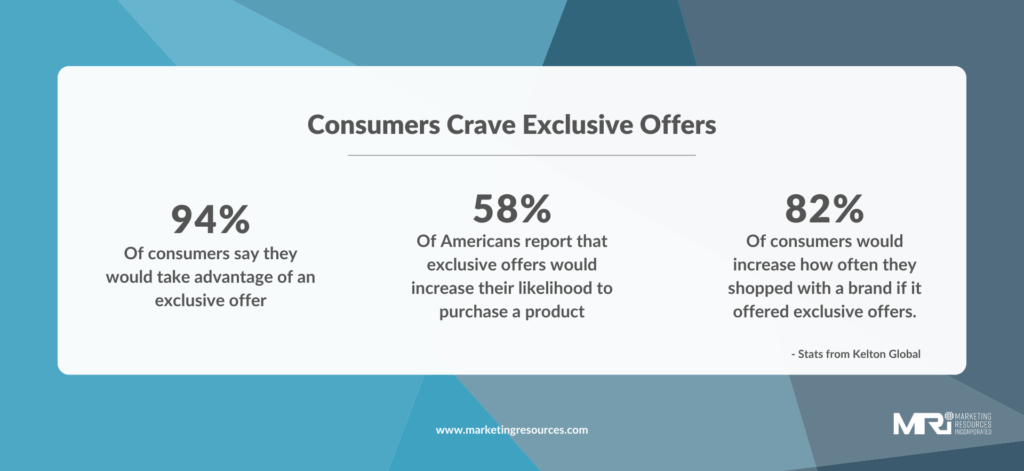 If you ask us, that's incredibly significant! Your brand can enjoy more engaged and loyal consumers just by simply offering something unique to them. In fact, according to verification company, SheerID, brands that use exclusive offers effectively increased conversion rates by 8X. Not only that, they tripled repeat purchases from loyal customers!
In our recent study, The State of Promotional Marketing, we asked over 500 marketers how their brands utilize promotional campaigns. We found that marketers consider "creating exclusive experiences" to be a critical component in fostering brand loyalty. The marketers we surveyed ranked exclusive experiences as almost as equally important as loyalty programs, and just below competitive pricing.
The results stand alone. When done well, exclusive offers drive engagement, increase purchases, and foster greater brand loyalty.
Create Exclusive Offers From Information Gathered Via Promotional Campaigns
Of the two aforementioned methods of creating an exclusive offer, creating personalized, custom offers is arguably the more arduous one. However, doing so reduces strain on the buyer during their decision process, increasing the likelihood that they'll purchase a product.
The information your brand collects during a promotional campaign, like a sweepstakes or loyalty program, unlocks valuable insights about your consumers. With our expert advice and purpose-driven approach, your brand can use those insights to create customized, exclusive offers and drive engagement.
For example, using consumer data to identify all of the contacts within your list who are also fathers, and offering them a father's day discount is a watered-down version of this. Offering birthday rebates, military discounts, or similar rewards would also be an "exclusive offer" to that consumer.
Similarly, shorten the buyer's journey and suggest relevant products or services to consumers based on their information. Skip all the time they spend browsing sites and sorting through products by showing them exactly what they want.
While these particular methods may seem easy and insignificant, don't just brush them off. 68% of consumers say that a personalized offer like the ones above is more important to them than coupons available to everybody.
Limited-Time Or Limited-Quantity Offers Create a Sense of Exclusivity
Another way to create an exciting exclusive offer for consumers is to simply produce limited quantities or for a limited time.
Keep in mind, that "limited-quantities" and "limited-time" mean something different to nearly every brand. For example, a large, national brand may consider a couple thousand units of a product limited, while a regional brand would consider that massive.
Because of this, being acutely aware of your brand's purpose and its position in the marketplace is crucial to crafting an effective exclusive offer. Avoid missing the mark and consult the expert advice of an award-winning promotional marketing agency with nearly 30 years of experience. Hey, that kind of sounds like us.
Drive Consumer Behavior and Increase Purchases with Exclusive Prizes
Tap into your consumer's emotions and "fear of missing out" (FOMO) on an exclusive experience. Nearly half (47%) of American shoppers would feel "excited" to receive a promotional exclusive offer. With that in mind, the case for creating an exclusive offer is an obvious one.
Of course, it's important to connect with your target audience in a meaningful and emotional way, and exclusive offers are highly effective at doing just that. A highly motivating factor in driving behavior, exclusive offers influence your consumer's emotions.
Not only can you drive behavior by connecting with your consumers emotionally, but exclusivity can also be used as a purchase incentive Within your promotional campaign, offer an exclusive reward or prize tied to purchases.
For example, using visual recognition and logo scanning, simply ask consumers to validate their purchase(s) of particular products in order to be eligible to win. It really is that easy! With MRi's industry-leading unique code and visual recognition digital services, your brand can seamlessly drive greater engagement in your promotional campaigns.
Promotional Campaigns and Exclusivity in Practice
Our clients, Pepsico and MTN DEW, create exclusive offers to support some of their biggest promotional campaigns each year. Each year, MTN DEW celebrates all summer long with engaging promotions tied to their fan-favorite Baja Blast.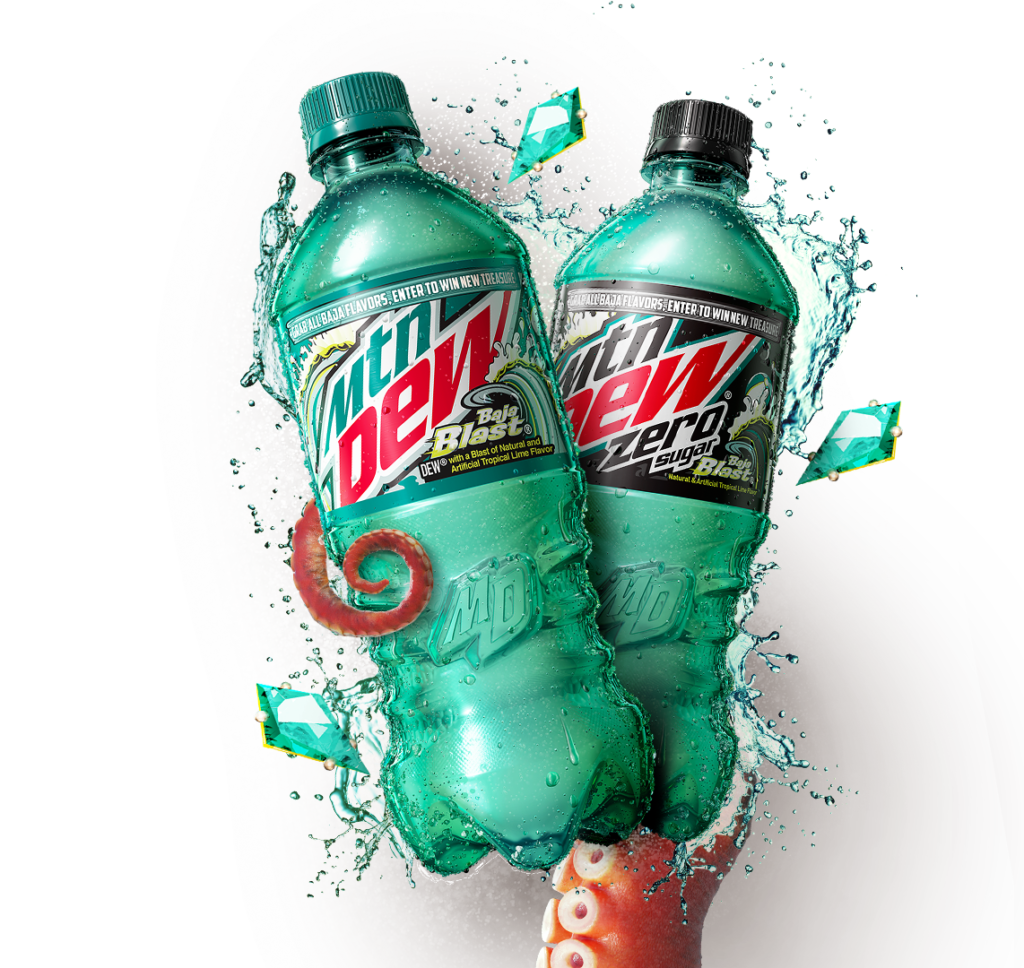 To delight their consumers and build on the success of their previous campaigns, MTN DEW took it up a notch for summer 2022. Launching Baja Blast as a new energy drink for the first time and highlighting tropical Baja flavors wasn't enough for their team. Instead, they went a step further and created an exciting exclusive offer for dedicated fans to look forward to all summer.
In order to encourage purchases of their three tropical Baja flavors, the DEW team, their agency partners, and MRi devised the perfect purpose-driven strategy. Summer Baja fans can scan the secure unique codes placed on all three delicious flavors for the chance to win. Cleverly combining an instant-win game and a long-term promotional game, DEW ensured their exclusive offer would not only encourage users to buy their products in the moment, but would keep them coming back for more to win the grand prize.
By offering fans the opportunity to win one of just 18,000 cases of an exclusive new flavor, Baja Deep Dive, DEW created the perfect exclusive experience for their loyal fans. Due to their deep understanding of their consumers, the DEW team knew that a limited-time flavor would be just the thing to motivate them.
As always, it was a pleasure to work with Pepsico, MTN DEWand their agency partners, and Motive to create this promotion. Check out the unique, 2-in-1 site our digital team developed to support this campaign all summer long.
How Your Brand Can Boost Campaign Engagement With Exclusive Offers
Clearly, exclusivity is a surefire way to boost campaign engagement and influence consumer engagement. When done effectively, exclusive experiences and prizes delight your consumers, increase sales, and reduce strain on the buyer's journey.
Promotional marketing leaders for nearly 3 decades, MRi has the expertise your brand needs to create an effective promotional campaign. We've been trusted by some of the largest brands in the world and time and time again, using our unique 4-step Big IDEA process, we've delivered on our promises, and then some.
Our purpose-driven campaigns take a client from ideation, through the development and execution of a well-thought-out campaign. We go the extra mile to ensure each program we run addresses our clients' needs. Upon conclusion of a campaign, we then set them up for future success.
Contact one of our experts today to begin planning your next campaign.