---
Rounding the corner into August, back-to-school is just a few weeks away! A massive opportunity for brands to capture greater market share and delight their loyal fans, now is the time to develop an effective strategy to get the most of it. Of course, in response to the pandemic, global conflict, and a shaky economy, this back-to-school retail season is sure to look unlike any other we've ever seen. 
At Marketing Resources Inc., we've developed and executed promotional marketing solutions tailored to help brands achieve their goals for over 25 years. We've seen firsthand the benefits of hitting the back-to-school season hard and investing in unique promotional strategies. Brands who jump at this opportunity find that their dollars go further and their messages get reached by a larger audience. 
We're sharing our team's best practices and tips for developing and executing a back-to-school marketing campaign. Whenever you're ready, get in touch with one of our promotional marketing consultants to develop your purpose-driven strategy today. 
2022 Back-to-School Trends
Because nothing good ever comes easily, this year's back-to-school season presents unique challenges. Marketers, retailers, and consumers are all facing new obstacles this year that they've likely never faced. 
The Pandemic Still Impacts Retail Forecasts
Back-to-school shopping accounts for the second largest spend for families annually, just behind the holiday season. Additionally, most, if not all schools are gearing up for a full return to in-person school, a contrast to last year's return to hybrid or remote learning. With a return to full-time school, parents expect to purchase more supplies now to prepare for the extra time spent away from home. Let's face it, not very many of us purchased nearly as many supplies as we're used to these last two years during the pandemic. Now that that has (mostly) subsided, parents and schools need to resupply.
Shaky Economy Shakes Up Back-To-School
As if all of that isn't enough to throw a wrench in things this year, consumers also just happen to face an impending recession and 40-year high inflation rates. No big deal. According to Deloitte's 2022 back-to-school survey, this year will be one of the most expensive years consumers have faced in decades. Parents expect to pay $661 per student, an 8% increase over last year. 
An interesting note, consumers aren't necessarily buying more than they did in previous years, they're just spending more. This 40-year high inflation rate impacts every industry, Not only that, but supply chain disruptions, lack of proper staffing, and a number of other factors currently wreak havoc on our economy. Because of this, school supplies are an average of 7% more expensive than last year, and new clothes (an often forgotten expense around the new school year) have gone up 18% according to Fortune.
Last year, parents received stimulus checks, $1,400 per dependent, to help offset some of the higher costs. Americans haven't seen that same support this year, and are facing even higher prices. Because of all this, consumers report being more likely to look to other brands and more valuable alternatives.
Promotional Marketing Offers Relief During Back-To-School Shopping
Since consumers plan to spend so much on back-to-school shopping this year, more than they're used to, it's safe to say that they'll be looking for some respite this year. In our blog, Marketing During a Recession, we noted that in times of economic uncertainty and hardships, consumers will seek cheaper alternatives and look most for "discounts that give cash back at the point of sale." With this in mind, your brand has the opportunity to develop an effective promotional marketing strategy to meet consumer needs. 
Back-To-School Marketing Loyalty Programs to Foster and Maintain Consumer Loyalty
It's clear that in 2022, consumers face a number of economic obstacles as they tackle back-to-school shopping. Arguably most troubling to brands is the fact that consumers report "looking for alternatives" this year, according to a report by Fortune. This means that brand loyalty is at greater risk than ever before.
Combat this growing change in consumer behavior with an effective back-to-school loyalty program to maintain your current batch of loyal customers. A tiered loyalty marketing program incentivizes casual shoppers or low spenders to shop just a little bit more in order to get a better prize or reward. With the prospect of an exciting reward on the table, consumers who might look to stray from their regular brands will surely continue to choose your brand.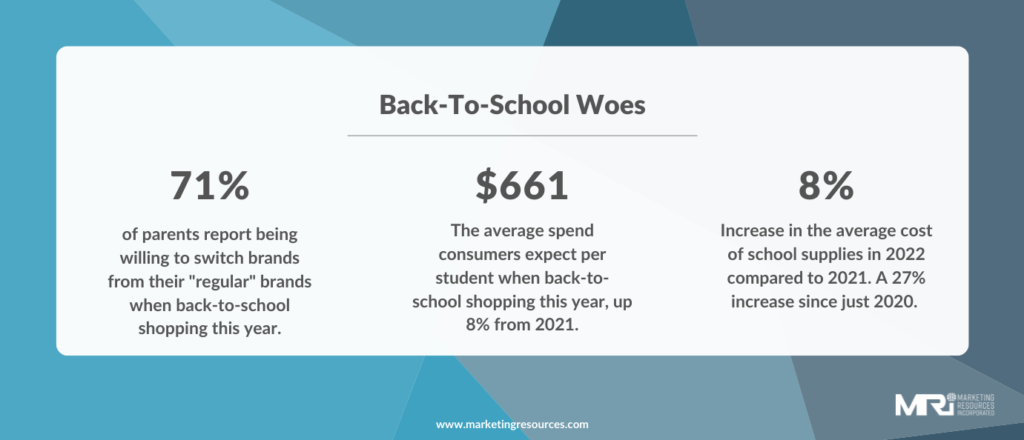 Not only that, but your brand similarly has the opportunity to gain new loyal customers during this time as well. A targeted loyalty program specific to new or first-time customers is an effective way to capture the attention of consumers willing to stray. The same principle stands, your brand immediately becomes more attractive to money-savvy consumers the second you offer them some sort of reward for their loyalty. 
Sweep Consumers Off Their Feet with a Back-To-School Sweepstakes
Promotional sweepstakes campaigns offer several valuable benefits to the brands that run them. Whether brands hope to generate more traffic and leads, collect data on their consumers, or boost their sales, a purpose-driven promotional sweepstakes campaign is sure to check their boxes. A back-to-school sweepstakes is a quick, engaging campaign that will help your brand stay top-of-mind with consumers. 
With over 21.5 million Google results for the search "back to school sweepstakes," it's clear to see the demand consumers already have for some back-to-school relief. When developing your brand's back-to-school marketing campaign, consider the types of reward that would have the most impact on your targeted audience and objectives. Do your consumers need instant gratification in order to motivate them to purchase, or will a longer promotion with the chance for a bigger prize do the trick? 
At MRi, we've spent nearly 30 years examining brands and developing the optimal promotional sweepstakes campaign for them. With our expertise and unique IDEA process, we'll help your brand identify the ideal solution for your needs.
Trigger Desired Consumer Behavior with a Back-To-School Contest
While it is true that consumers desire rebates and rewards that are relatively "low-effort" during an economic downturn, don't discredit the benefits of an effective promotional contest just yet. Though they do generally require more effort from consumers (relative to say a sweepstakes, or a promotional game, for example), contests are extremely effective at triggering consumer action. 
A purpose-driven promotional contest marketing strategy can:
Drive brand awareness
Incentivize purchases
Generate new leads
Provide your brand with user-generated content
Sure, these are all great year-round, but especially now, when consumers are looking to stray and find new or better brands. Executing a back-to-school contest specifically achieves these critical business objectives at a time when your brand needs to break through the crowded marketplace. What better way to grab the attention of your target market than with an exciting contest?
When paired with a higher value prize or reward (to offset the higher level of effort required to enter), a promotional contest is a highly motivating back-to-school marketing solution. Because of the extra effort required to enter a contest, higher-value prizes make for the perfect fit. When developing a back-to-school contest, consider rewarding valuable, school-related items like laptops, iPads, clothes, or gift cards to common supply stores. 
Back-To-School Purchase Incentives Provide a Win-Win Situation
It's obvious that consumers want financial relief however they can get it right now. Purchase incentives drive sales and increase revenue for your brand, while offering consumers a discount or reward, simply for purchasing your product. 
The opportunities to execute a back-to-school purchase incentive campaign are endless. If your brand offers products or services that are typically purchased during back-to-school shopping, like school supplies, snacks, clothes, or electronics, consider executing a purchase incentive to make your brand stand out from the competition. According to a report by Reuters, the average Target retail store carries over 80,000 distinct SKUs for consumers to decide between. Give your brand every edge you possibly can and entice your target audience to purchase your products with an engaging back-to-school purchase incentive. 
On the other hand, your brand still has options if you don't typically sell back-to-school products. One simplified example would be to offer a purchase incentive that is a typical back-to-school product or service. For example, your brand is a QSR and not exactly everyone's first stop to pick up pens and pencils. However, with a back-to-school-themed purchase incentive, your brand can offer discounts to a retail store you partner with, or even the chance to win school supplies, with the purchase of your restaurant's meals. Similarly, lots of shoppers work up an appetite after buying all of their new school supplies. If your restaurant offers a discount on meals with a back-to-school receipt, imagine how many of those shoppers will flock to your restaurant. 
Ultimately, the opportunities are as wide as your imagination. At Marketing Resources Inc., we work with your brand to uncover its purpose and develop exciting and unique incentives that will inspire your customers.
Develop Your Brand's Back-To-School Promotional Marketing Campaign
With back-to-school spending expected to reach up to $34.4 billion this year, don't miss your opportunity to capitalize on the retail season. Just a few weeks away, if you don't already have a back-to-school marketing strategy finalized yet, now is the time to develop one. 
At MRi, we have nearly 3 decades of experience helping brands identify their purpose and execute a promotional strategy to help them reach their goals. Our award-winning work has generated billions of leads for some of the largest companies in the world. Wherever your brand is and whatever your goals are, we're here to help.