Consumer product goods (CPG) brands do not have it "easy" by any means. The industry is responsible for $2 trillion of the American GDP. There are thousands upon thousands of products lining the shelves of stores across America. And, worst of all, consumers are increasingly less brand loyal with each year. With thousands to compete against, CPG brands must remain agile in order to delight consumers and foster brand loyalty.
According to our recent survey of over 542 marketers, The State of Promotional Marketing, 71% of them plan to execute some type of promotional campaign within the next 12 months. As such, we've taken it upon ourselves to identify our top CPG sweepstakes tips. Written specifically for CPG brands, these tips will help bring your promotional marketing campaigns to life, increase conversions, and put you on top of the marketing world.
At MRi, we have over 25 years of experience working with the world's top CPG brands, like PepsiCo. We know a thing or two when it comes to CPG marketing and hope our CPG sweepstakes tips guide your brand.
Incorporate Clever Packaging For CPG Sweepstakes
The first sweepstakes tip for CPG brands is to use your packaging to your advantage! As a consumer packaged good, odds are you have at least some sort of packaging you can leverage here. Why waste valuable space when it can be used to catch consumers' attention? Use every inch you can!
Other advertising options, like social media ads, google ads, billboards, and even in-store displays are all great tools, but advertising for your sweepstakes on the product itself makes it that much easier for consumers to be informed about the sweepstakes and how to enter/win. When sharing pertinent information like rules and how to enter, the simpler the better. Be as clear as possible to eliminate confusion and potential fraud. You'll want to be sure you're abiding by the sweepstakes laws by state for wherever your CPG sweepstakes is active.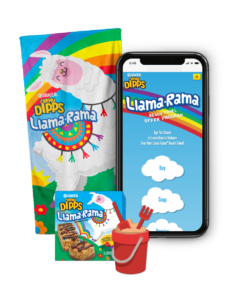 But, don't be afraid to be clever or creative. Let your brand and its unique personality shine throughout every aspect of your promotional campaign including its packaging.
One of our partners who have executed great packaging as part of their CPG sweepstakes is Chewy Dipps. To support their award-winning "Llama Rama" promotional campaign, Chewy Dipps created an adorable Llama character. Featured heavily across all channels, this lovable llama quickly caught the attention of consumers. This helps in drawing more eyes to the product itself and encourages people to pick it up.
CPG Sweepstakes and Unique Codes
Our second CPG sweepstakes tip to guide your brand through executing promotional campaigns is to utilize unique codes. Unique codes have been used for decades in sweepstakes marketing, and we've generated literally billions of them.
Typically seen as under the cap (UTC) codes or on game pieces (like fountain drinks at QSRs), unique codes can be a huge tool to increase program participation, sales, and data tracking for the program.
Not only that, but in many cases, unique codes inspire action. Consumers are motivated to visit a website, scan a code, or enter their information. One way or another, a unique code is likely to drive your consumers to convert.
Once they do convert, your brand unlocks so much more data to use in future campaigns vs a strictly online sweepstakes entry.
For example, In unique code programs, data can be broken down by SKU, location, retailer, and so much more. Therefore, your brand can now gather insights like:
Which products or prizes consumers like most

Which regions generate the most participation

Which social channels create the most entries

Much more
Armed with these insights and guided by our unique, 4-step IDEA process, your brand has the information it needs to execute even more successful campaigns down the line.
CPG Sweepstakes Tips In Practice: Pepsi and NHL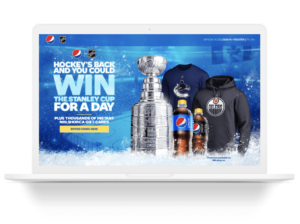 Recently, we worked with Pepsi Canada to create UTC codes for its exciting Pepsi Hockey's Back Contest. With this instant win game/sweepstakes, Pepsi needed enticing consumer engagement that would raise awareness of their sponsorship with the NHL. The "Pepsi Hockey's Back Contest" was the perfect promotion to bring excitement to Pepsi and NHL fans all across Canada. With UTC codes, Fans could find the on-pack codes on specially marked Pepsi products, seamlessly enter the codes on the promotion's microsite, and have a chance at receiving an instant prize PLUS an entry to the grand prize sweepstakes.
Powerful Partnerships
Our third CPG sweepstakes tip is to partner with another brand. But, not just any brand will do the trick here. When done correctly, your brand seamlessly expands its reach to new audiences. When done without a clear purpose, your brand may confuse consumers.
Brand partnerships are very effective at increasing engagement and awareness for sweepstakes. However, before partnering with a brand there is an important consideration you should make; Will that brand's partnership strengthen my campaign? Or will it just complicate the campaign?
These are important questions because increasing your reach with a partnership may not be as meaningful if the other brand's audience won't be interested in your brand. As always, there are exceptions, so make sure to use your best judgment and do what is right for your brand. Keep in mind logical pairings that might work well. For example, if your brand sells delicious salty snacks, you might want to pair up with a refreshing beverage company.
Brand partnerships can extend beyond the obvious flavor pairings found in most convenience stores as well. Consider other brands or companies that share similarities with your brand. If their target audience is aligned with your brand's target audience, chances are it'll be a winning partnership.
CPG Sweepstakes Tips in Practice: Credit One Bank
Our client, Credit One Bank, has plenty of experience partnering with other brands for promotional campaigns. After having identified their unique purpose, Credit One Bank decided a brand partnership was right for their brand.
Plenty of work went into identifying the perfect partnership. Ultimately, Credit One joined forces with WWE, forging a lasting brand relationship. Credit One understood that WWE fans, in general, tend to fall within their target audience. By associating themselves with a beloved brand, Credit One Bank was able to reach even more people, and used promotional campaigns to incentives new cardmembers to sign up.
Customized CPG Sweepstakes Tips For Your Brand
These three CPG sweepstakes tips are just a starting point for you. We hope that these three tips inspired your CPG brand to create an engaging and exciting sweepstakes for your consumer. Of course, we are always here to help you with whatever you may need.
We're proud to offer full-service promotional campaign administration. From ideation to analysis, our dedicated marketing experts will be by your brand's side every step of the way. For your own CPG sweepstakes tips tailored to your brand's needs, contact one of our consultants for a free consultation today.