Customer loyalty, defined as the ongoing emotional relationship between a brand and its consumers, according to Oracle, is the gold standard for consumer engagement. Of course, brands crave loyal consumers, who're sure to buy from them, and consumers seek emotional connections and meaningful interactions with the brands they pick. It's easy to see then just how coveted customer loyalty truly is for both parties involved. Measuring customer loyalty, on the other hand, is not so clear-cut. With so many metrics and variables, marketers are wondering more than ever how to measure customer loyalty.
As a marketer, understanding brand loyalty in the context of your target market allows you to more effectively retain your ideal customers, increase positive associations with your brand, and even increase revenue. Without first knowing how to measure customer loyalty, none of this is possible.
Brands must examine not only their own data (revenue, purchase history, stats on retail locations, etc.) but also their consumers' sentiments and behavior. Keep in mind, your customers may tell you one thing but for whatever reason, behave entirely differently.
Below, we're sharing some of the best and easiest ways to measure customer loyalty. Armed with this information, your brand can implement new strategies to encourage brand loyalty and improve customer retention. For a comprehensive plan developed specifically for your brand's needs, contact one of our promotional marketing experts today. 
Measure Customer Loyalty Internally
In some cases, your brand can effectively measure customer loyalty internally, without ever reaching out to your consumers. Though we do suggest at least trying to understand consumer sentiment in order for a fuller picture of your brand's loyalty, these revenue-based loyalty metrics are still quite valuable.
Revenue-based loyalty examines how consumers spend their money with your brand. How much do they spend? How often? Do they return? Do they spend more over time? Answering these questions, and more, gives your brand the insight you need to understand customer loyalty.
Customer Retention Rate
Starting off relatively basic, let's explore customer retention rate. Briefly, customer retention rate is the percentage of customers who stay customers (continue to make purchases or stay subscribed) over a certain period of time. Customer retention is written as a percentage of a brand's current customer base that remains loyal.
However, it's a bit more complex than just how many customers you have over a certain period of time. You must also account for any new customers you acquired during the same time period in order to have accurate customer loyalty data
Let's take the smallest of scales for example. Your brand has five customers. In a certain period of time, you lose a customer but gain three more. Your brand doesn't have a customer retention rate of 140 percent. Unfortunately, things don't quite work that way. If you fail to take new customers into consideration as you calculate your brand's loyalty, you may inaccurately assume your customers are more loyal than they are.
As we mentioned in our blog, The Ever-Evolving Psychology of Brand Loyalty, customer retention is worth trying to maintain. According to one Harvard Business Review study increasing your brand's customer retention by only 5% can increase revenue from 25-95%.
Not only that, but brand loyal consumers provide business value in a number of different ways. They spread positive word of mouth to their friends and family, share your products or services, and promote your brand, just to name a few benefits of solid customer retention.
How to Measure Customer Retention Rate:
Determine the time period you want to look at
Identify how many customers your brand has at the Start of your time period. Express this number as CS
Determine the total number of customers at the End of your selected period of time. This number is CE
Account for any new customers added during this time as well. Express this number as CN
Retention Rate = ((CE-CN)/CS)) X 100
At the end of the day, customer retention rate reveals several insights for your brand. For example, brands that make a change to their products or services may want to examine their retention rate after a few months in order to see how well perceived the change was. Did you lose more customers than what's average for your company? If so, it may not have been a positive change.
Customer retention rate also indicates how consumer perception of your brand evolves over time. Do consumers feel the need to purchase your products or services multiple times? Or will once be enough? Are you meeting their needs as they evolve? However you look at it, customer retention rate can help your brand identify a number of key insights.
Customer Churn Rate
Customer churn rate looks at how many customers do not remain customers over a certain period of time. The exact opposite of customer retention, churn rate is a percentage of your brand's customers who are not loyal customers. In the not-confusing-at-all world of marketing, "churn" simply refers to the number of customers lost.
How to Measure Customer Churn Rate:
Determine the period of time you want to examine
Identify how many customers your brand has lost during this period. Express this number as CC (do this by subtracting your CE from your CS)
Customer churn rate formula: (CC/CS) x 100
For example, if your brand had 100 customers at the beginning of your time period and lost 20 it would look like this:
(20/100) x 100 = 20% churn rate.
Churn rate identifies many of the same key insights that retention rate does, just the other way around. It signifies a lack of customer retention and may sound the alarm for more significant issues you'll want to address. Ideally, keep your churn rate as low as possible to minimize lost opportunities.
What Does Negative Churn Mean?
If after calculating your brand's churn rate you arrive at a negative number, pack it up, and call it a day. No, you haven't made a mistake with your math. Instead, you've just hit the customer loyalty jackpot, and probably deserve an afternoon off.
Negative churn means that revenue from existing customers is growing, rather than shrinking. When this occurs, brands are gaining new customers faster than they're losing existing customers.
Loyal Customer Rate
Identifying your brand's loyalty customer rate is a derivative of its repeat purchase rate. Repeat purchase rate is the percentage of customers who do business with your brand multiple times. While this is almost the same as customer retention rate, there are a few key differences.
Customer retention rate is exceptional at determining the loyalty of customers over a longer period of time. Similarly, customer retention rate doesn't always accurately measure your brand's customer loyalty. For example, consider a consumer who has purchased your brand's product once, but does not purchase it again during your selected period of time. Because they don't purchase again, they look like a "lost" customer. But, maybe they simply haven't finished the first product they bought, or are saving up for a second. Churn rate cannot always identify these consumers, particularly in a short period of time. Because of this, churn rate is far more effective at identifying customer loyalty over extended periods of time, or for subscription models that automatically renew.
Repeat purchase rate, on the other hand, focuses solely on the consumers who do purchase a good or service from your brand at least more than once. Easily enough, you calculate repeat purchase rate by dividing the number of customers who have purchased more than once by the total number of customers.
Repeat customer rate formula: Number of customers who have purchased more than once / Total number of customers
Once you understand how to calculate repeat customer rate, you can take it a step further and identify your brand's loyal customer rate.
"Loyal" means something different to every brand, so first, identify what it means to yours. Does that look like two purchases? Four? Ten? Whatever it is, simply replace the "repeat customer" part of the above formula with your "loyal customer" value.
For example, calculate customer loyalty using the following formula. For this, let's assume that five purchases qualifies as a loyal customer.
Loyal Customer Rate= Number of Customers who have purchased five times/ Total number of Customers.
Customer Lifetime Value
Customer lifetime value (abbreviated as CLV or sometimes LTV) is a measure of how much profit the average customer contributes to a business over their entire life as a customer. Of course, there are several formulas to measure customer lifetime value. Ranging from simple to "can my phone calculator even handle this?", whichever method you select to measure customer lifetime value will allow your brand to extract valuable customer data.
CLV is an important metric to keep a pulse on because it points to the value your customers bring to your brand. Understanding this can help you determine if it's worth it to invest in nurturing customer relationships over time. Or, you might realize that your brand needs to put in extra effort to acquire newer customers because they simply lose value over time.
CLV Formula: (Average order value x Repeat purchase rate) – Customer acquisition cost
Customer lifetime value explores not only how often consumers return to your brand, but how much they spend, too. With this, your brand can estimate how much revenue you expect to gain from consumers and identify critical areas of improvement.
A low customer lifetime value indicates areas of improvement, and should not be taken lightly. Increase your CLV by encouraging consumers to purchase more often, and spend more when they do. An effective purchase incentive campaign can quickly boost your brand's CLV, whereas a longer loyalty program has, understandably, long-term impacts on your CLV.
Once your brand acutely understands how to calculate customer lifetime value, it can then take the action necessary to respond to it.
Consumer Sentiment Loyalty Metrics
The above methods for how to measure customer loyalty reflect revenue-based pictures of your brand's customer loyalty. While they are both accurate and valuable tools for measuring your brand's consumer loyalty, they are by no means the only methods to do so.
For an even more comprehensive method of how to measure customer loyalty and a fuller picture of your consumer's true sentiments, simply ask them how they feel. Doing so provides more insight, directly from your customers, and reflects behavior that numbers simply can't provide.
Customer Satisfaction (CSAT)
Your brand's Customer Satisfaction Score (CSAT) is simply a measurement of how satisfied your current customers are with your brand. Who would have thought, right?
Truthfully, your brand can determine its CSAT a million different ways at a million different times. But, to be general, you can measure your brand's customer satisfaction by simply asking customers to rank (on a scale) how satisfied they are. You can do this after a purchase, after they reach out to customer service, after they return an item, or pretty much during any engagement with your customers.
However you decide to collect this info is entirely up to you. If you think it's valuable to ask on a scale of 1-10, go for it. If "horribly unsatisfied" to "super satisfied" makes more sense for your brand, and more importantly, your consumers, then go with that. Whatever you do, keep it consistent across all consumers when you're measuring.
For example, if you ask customer A after they've just spent $500 in your store, chances are, they're super satisfied right now. If you ask customer B after they've just returned a product to your store, well, they're probably not satisfied. Instead, ask all consumers at the same time after the same type of interaction with your brand in order to collect the most accurate data.
While it isn't necessarily an exact measurement of customer loyalty (a happy customer isn't always a loyal one), keeping a pulse on customer satisfaction score can ensure that your satisfaction levels aren't so negative you lose loyal customers.
Net Promoter Score (NPS)
Net Promoter Score measures how customers feel about your company in general. NPS is designed to take into account every single part of the customer experience. This includes the ads they saw, the employees they engaged with, the experience of the store or website, literally everything.
Identify your NPS simply by asking customers "How likely are you to recommend [BRAND] to your family and friends?" where 1 is not likely and 10 is very likely. Customers that respond 9 or 10 are considered "promoters" and are likely to stay loyal and advocate for your brand. Customers that respond 6 or lower are considered detractors and are much more likely to churn in the near future.
While you can stop there, some NPS surveys will include an additional section to allow respondents to share why they gave the score they did. Consider adding this section to truly understand how your consumers perceive your brand. After all, knowing what a consumer doesn't like about engaging with your brand is far more valuable than just knowing that they don't like engaging with your brand. Giving them the opportunity to share allows your brand to take action and address their issues.
Customer Effort Score
While it might not seem like it based on just name alone, your brand's Customer Effort Score is an incredible indicator of customer loyalty. Customer Effort Score measures how easy it is for customers to engage with your brand. Whatever that engagement looks like varies from brand to brand. It may be purchases, or it may be interacting with customer service.
How does Customer Effort Score reflect brand loyalty? CEB Global, the firm that created the CES method of how to measure customer loyalty, reports that 96% of customers reporting high-effort experiences became more disloyal in the future, compared with only 9% of those with low-effort experiences. The evidence is clear, by reducing the amount of effort it takes for consumers to engage with your brand, the more likely they are to remain loyal.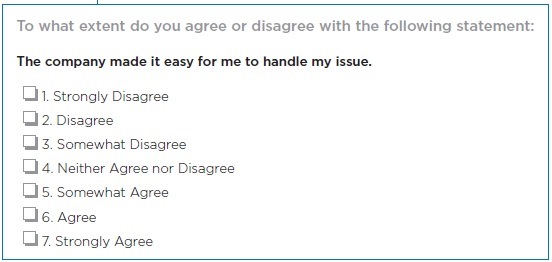 Released in 2010 and improved in 2013, the CES is a simple question survey formatted in an agree/disagree manner. Tracking CES, and most importantly, what influences it, allows brands to adapt to their customer's needs and desires.
According to Gartner, "customer effort is the strongest driver of customer loyalty," so be sure to keep a pulse on this consistently.
Measure Customer Loyalty With Marketing Resources Inc.
As you can see, there are numerous ways to keep an eye on your brand's level of loyalty. Whether you choose to select one method, or a combination of several, there is no one "correct" way how to measure customer loyalty.
To ensure you get the most comprehensive picture of your brand's loyalty possible, partner with a trusted promotional marketing expert. With nearly 30 years of experience helping some of the world's most recognizable brands foster greater customer loyalty, our team is ready to develop a custom strategy for yours. No matter where you fall in the process, just starting out or ready to measure and improve your brand's customer loyalty, contact one of our loyalty experts today for a free consultation.