Marketing departments always seem to run at a pace of a mile-a-minute. With so many different tactics and strategies to develop, trends to keep up with, pieces of content to create, and other departments hoping for a minute of your time, it's always go-time. Keeping up with all of this is more than a full-time job on its own (save yourself some time and energy and keep up with the latest promotional marketing trends with our guide here). Improve your brand's sweepstakes marketing strategy, or develop a new one aligned with your brand's goals with our advice below!
Why Create a Sweepstakes Marketing Strategy?
Plain and simple, sweepstakes and other promotional campaigns are effective marketing tactics. When boiled down to its most basic description, a sweepstakes is a random drawing. Most often, participants "enter" a sweepstakes campaign with their personal information (name, address, phone number, likes, dislikes, etc), in exchange for some sort of prize or reward.
Sweepstakes and promotional campaigns provide an incredible amount of value to brands that execute them. Depending on the mechanics of the promotional campaign and the brand's purpose, a refined sweepstakes marketing strategy can:
Generate leads for your brand
Increase brand awareness
Gain valuable retail space in stores
Drive sales via purchase incentives
Build deeper relationships with your consumers
However, just because sweepstakes campaigns are simple in concept, doesn't mean they are simple in execution. There is a lot that goes into the strategy and execution of a sweepstakes, which is why partnering with a promotional marketing agency (like MRi) can be crucial for developing your brand's marketing strategy.
To get you started, and get those creative juices flowing, we've put together a list of 5 creative tips that brands can use to liven up their sweepstakes marketing strategy.
Tap Into Emotions as Part of Your Sweepstakes Marketing Strategy
By far one of the most effective ways to connect with your audience on a deeper level is to tap into their emotions. Think about the brands that you're most connected to yourself. Why are you so connected to them? Why do you choose them over other, similar brands? Now, think about how that brand makes you feel.
Emotional connection plays a critical part in the psychology of brand loyalty and the reasons consumers opt for one brand over another.
The Science Behind an Emotional Connection With Your Consumers
In a study conducted by Psychology Today, a functional magnetic resonance imaging exam (a functional MRI. The brain scan, not MRi the award-winning promotional marketing agency) recorded brain waves while consumers evaluated brands. The findings prove that consumers "primarily use emotions (personal feelings and experiences), rather than information (brand attributes, features, and facts)."
That's a lot to unpack. Consumers rely on their own emotions and opinions when choosing between brands. They don't really consider the "facts" about that brand, like the relative price, quality, or convenience a brand offers. This means that your brand can have one of the best products on the market, even the best, and it still won't matter as much as how you make your consumers feel.
Of course, don't throw your product strategy out. That's not the takeaway we hope you get from this. Product marketers, we love you, we promise. Instead, adapt your sweepstakes marketing strategy to tap into the emotions of your consumers.
How to Include an emotional Connection Within Your Sweepstakes Marketing Strategy
Luckily for you, connecting with your consumers is a breeze with the proper sweepstakes marketing strategy. Before you begin, you'll first have to identify your brand's purpose. The first step in our IDEA process, our full-service, consultative approach blends consumer insights, promotional expertise in the marketplace, and past experiences to Identify your promotion's unique purpose, creating a stronger, more emotional connection with your consumers.
With your brand's purpose identified, it should be clear which tone is most appropriate for your sweepstakes marketing strategy. Ask yourself the following questions to help you decide:
What do your consumers value?
What other brands do they like? What do those brands do?
Is there a relevant influencer or content creator your consumers love? Can you work with them? Replicate (but not copy) their tone?
Is now an appropriate time (socially, politically, globally, you get the gist after the last few years) for a joke? Or should things be a bit more serious? Will an earnest message mean more to your target audience? Or a friendly and lighthearted one?
Whichever emotion you select, our promotional marketing experts are ready to create a custom sweepstakes marketing strategy, tailored to your brand.
Know Your Audience Like The Back of Your Hand
Recently, we asked over 500 marketers what their number one biggest challenge is. Overwhelmingly, 46% stated that engaging with their audience in a meaningful way is their largest challenge. Even more challenging than generating leads (26%), and proving ROI (just 8%), connecting target audiences is a ubiquitous hurdle.
Refine your sweepstakes marketing strategy and engage your audience in meaningful ways by simply knowing them as well as you possibly can.
An easy way to accomplish this with your sweepstakes strategy is to ask your consumers questions as a means for an entry. Yes, we use a sweepstakes campaign (more accurately, the results and data collected from the campaign) to improve our overall sweepstakes marketing strategy.
Cue the analysis step of our IDEA process. Together with your team, our dedicated promotional marketing experts take the consumer data gathered from your campaign and translate it into valuable insights you can use to refine your future marketing efforts. On your side every step of the way, we not only offer your brand the real-time data it needs to adapt and optimize active campaigns, but we take it a step (or two or three) further and help your brand dissect every aspect.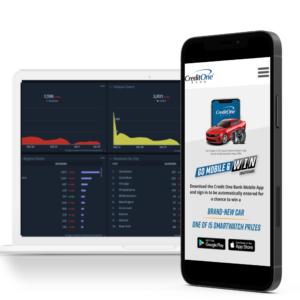 Some of the Ways We Help You Understand Your Audience:
What went well?
What didn't go so well? (No worries, look at these as learning opportunities)
Was there one prize offered that consumers overwhelmingly preferred?
Which channel received the most engagement? The least?
Which metrics (CTR, email open rate, conversion rate, etc) hit the mark? What can we do to improve them for next time?
When you understand your consumers, your brand is then able to create ​​marketing that makes a difference in the lives of your consumers and puts your brand on top of the marketing world.
Partner Up as Part of your Sweepstakes Marketing Strategy
The next creative way to boost your sweepstakes marketing strategy is by partnering with another company. As the saying goes, the more the merrier. Partnering with another brand for your sweepstakes allows your brand to essentially double your reach with their customer base.
Before partnering with a brand there is an important consideration you should make; Will that brand's audience be interested in your brand or products? This is an important question because increasing your reach with a partnership may not be as meaningful if their audience won't be interested in your brand. As always there are exceptions, so make sure to use your best judgment and do what is right for your brand.
At MRi, we have had the pleasure of working on many promotions involving brand partnerships.
Recently, with our help, Credit One Bank determined that a partnership with WWE would create a wonderful opportunity to:
Delight current Credit One cardmembers with a fun and engaging partnership with a brand they already loved
Incentivize new cardmembers to sign up with exciting offers
Increase brand awareness with a strong and relevant brand partnership
Together, these two brands execute tremendously successful promotional campaigns. As part of their sweepstakes marketing strategy, the brands have identified that their target audiences are largely the same (Credit One Bank members love WWE and WWE fans are likely to bank at institutions similar to Credit One) and share similar motivations. Because of this, it's a no-brainer to partner!
For the full details on their successful partnership, view our case study here.
Integrate new technologies as part of your Sweepstakes Marketing Strategy
In just the past decade or so, many new sweepstakes and promotional technologies have emerged, and it's nearly impossible to keep up. Thankfully, Marketing Resources Inc., with over 25 years of experience, has a host of industry-leading digital services to improve your sweepstakes marketing strategy.
Augmented Reality
Among the most popular emerging technologies taking sweepstakes marketing strategies by storm is augmented reality. Augmented reality is when a virtual image is superimposed into real world view (typically with smartphones).
With augmented reality, brands can create games for users to play for additional sweepstakes entries. Or brands could use augmented reality to make the entry process seamless; Consumers could scan branded packaging or your brand logo with their phones and be taken directly to your sweepstakes microsite.
As an example, the Peel the Love promotion we worked with Raising Cane's on, involved an Augmented Reality game, Lemon Launch, where fans could receive bonus codes for more chances to win by playing the game!
Visual Recognition in Sweepstakes Marketing
Taking the industry by storm in more ways than one, visual recognition enhances even the most well-thought sweepstakes marketing strategies. One way to incorporate visual recognition into your promotional campaigns is via unique codes.
Attractive visual identifiers on your physical products, unique codes not only draw attention to your brand within stores, but they also incentivize consumers to actually purchase your items, and they assist in accurate data collection. That sure is a lot for just a few letters and numbers or a QR code.
A key benefit of incorporating unique codes into your sweepstakes marketing strategy is the ability they provide your brand to tie ROI back to your sweepstakes or promotional campaign. With codes, users simply scan their individual code, associating themselves with that product. All of their behavior and activity from there can be tracked and tied back directly to your campaign. Unlike other types of campaigns, with unique codes, you're able to identify exactly which products motivated exactly which behaviors. Can you say the same about a billboard, print ad, or even a social media campaign? Probably not.
Tie In Your Sweepstakes Marketing Strategy to an Event or Holiday
And finally, our last tip for livening up your sweepstakes marketing strategy is to incorporate a holiday or event into your campaign. Like with brand partnerships, running your sweepstakes during an event or holiday allows you to increase engagement for your promotion, and leverage the popularity or buzz surrounding that event.
For example, the biggest advertising day of the year, the Super Bowl, is the perfect opportunity to tie your campaign to a noteworthy event. With guaranteed eyes and attention at your chosen event, it's no wonder brands are investing heavily in this type of marketing.
We know firsthand the value of connecting your sweepstakes strategy with a significant event. Take our work with our partners at Pepsico and Mountain Dew, for example. Together, along with their creative agencies, we created a first-of-its-kind, award-winning super bowl campaign as part of their overall promotional marketing strategy. Keep in mind, however, that this particular campaign was a contest, not a sweepstakes. Despite that though, the strategy and development of the campaign were exactly the same as developing your sweepstakes marketing strategy.
Conclusion
With these 5 tips to liven up your sweepstakes marketing strategy, we hope you feel inspired to run a creative and effective sweepstakes campaign.
If you're looking to add that extra element of excitement to your sweepstakes, while also ensuring a successful, secure, and legal promotion, contact MRi.
We can help you bring your IDEA to life while overseeing all compliance and security from start to finish. We have over 25 years of experience working with top brands on some very memorable promotions. Our experts will help you identify your promotion's purpose and select creative tactics to best achieve your goals.