In today's connected world, people spend more time online and on mobile devices than ever before. In fact, according to our own analytics, there's at least a 50% chance you're reading this on your phone! With so many users spending so much time on their phones, brands and companies all across the globe must adapt to consumer preferences and offer engaging mobile experiences.
Mobile apps have become an integral part of curating your brand's overall experience. Fail to provide a fun, user-friendly experience and you run the risk of alienating a large portion of your target audience.
How Consumers Use Apps
Simply put, mobile apps equip your brand with one central hub to serve your target audience no matter where they are. Beyond your brand's website, a mobile app creates an integrated home right on their phone screens for your consumers to return to again and again. With an app, you have the unique opportunity to "show up" for your consumers almost every time they check their phones.
Not only that, but using a mobile app is considered "the norm" for most consumers across most industries. In fact, the average smartphone user has 80 apps downloaded and spends around 3 hours a day using them. All of that time spent swiping (up, down, left, or right, there's an app for that), checking news feeds, and playing games accounts for over 90% of the time Americans spend on their phones each day.
Ever since smartphones became ubiquitous about a decade ago, app downloads and usage have been on the rise. That shouldn't be a surprise to anyone, especially anyone who works in marketing. What is surprising, however, is that in the last few years in particular, app usage has skyrocketed.
For example, just 5 years ago, only around 140 billion apps were downloaded in a 12-month period. This year, that number grew to well over 230 billion. On top of that, we're seeing even stronger growth in branded apps in the QSR and CPG industries, as well. According to QSR magazine, restaurant-specific app downloads have increased by nearly 20% in the last year.
Of course, you're probably looking for a reason better than just "it's the status quo," aren't you? So, why should your brand really develop a mobile app? We asked our team of experts, including our senior vice president of client services, Tim Hobbs, for their insights on mobile apps and why they matter.
Why You Should Create a Mobile App For Your Brand
For the sake of clarity, when we say "brand app" we're referring to an app created specifically for a brand (like a CPG, QSR, or even a bank) or company. We are NOT referring to most games (like Angry Birds or Candy Crush, for example), productivity apps (while your calendar app is a lifesaver, we're not talking about those), or social media apps.
The steady growth in app downloads and engagement over the last few years indicates not only a growing reliance on mobile experiences, but also suggests that consumers continue to extract value from the mobile apps they use. But, what is that value?
In our opinion, the best brand mobile apps serve 3 main consumer needs or desires. The need for information, the need for entertainment, and of course, the need (or desire) to complete a transaction. Depending on your particular brand and its goals, your app may or may not do all of these things.
With those three main motivations for engaging with an app in mind, take some time to explore how your brand can develop an app that meets your consumer's needs. To help guide you in this process, ask yourself the following questions:
What do my consumers value the most from my brand? What specific benefit or solution do we provide them?
Are there any consumer needs we don't currently meet?
How do my customers prefer to be contacted by my brand?
How often do they want to hear from us?
As you can see, mobile apps should provide tangible benefits and value to your consumers. Remember, your users have about 79 other apps downloaded on their phones (and the infinite world of the internet at their fingertips, too). You must offer your consumers genuine value and give them a reason to continue to open your app day after day.
Having a mobile app "just to have one" is a surefire way to create an uninspired, downloaded and quickly forgotten-about app. But, when you keep your consumer's desires and needs in mind, you can create a truly valuable digital experience for all.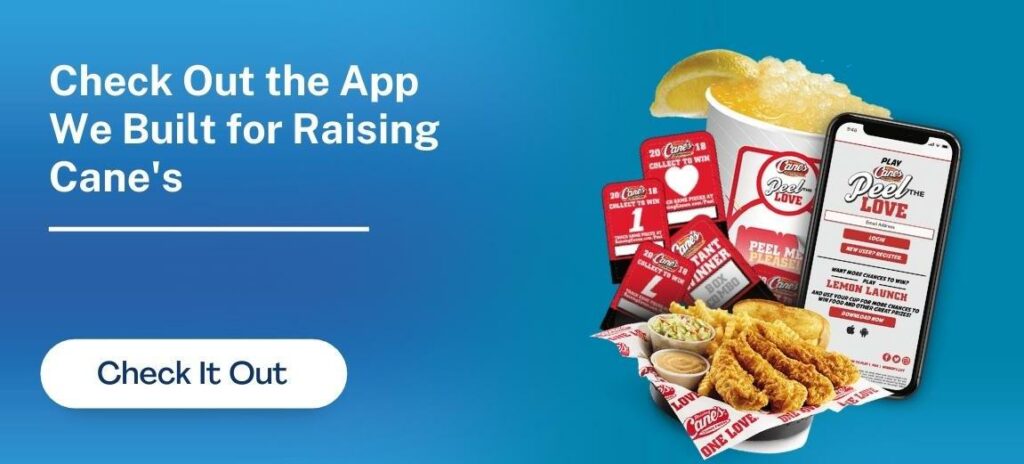 How to Encourage Downloads and App Engagement
Your brand's mobile app is an extension of your brand itself, so be sure to remain consistent with what your consumers expect from your brand. For example, choose the same app header image that you have on your website, keep the colors and flow of the app similar to other online experiences you offer, and as always, keep your voice consistent.
Beyond that, consider how your brand's mobile app will serve its users. Research shows that two thirds of app users will continue to use an app "frequently" when it "simplifies" their life. So, how will your app do that?
With around 2 million apps available to consumers, your brand must break through a ton of noise and a mountain of competition to go from the app store to the home screen.
Once you've created an app for your brand, your job has only just begun. ​​71% of app users churn within the first 90 days of downloading an app, meaning you must continually up the ante and offer new types of value to your users.
Senior vice president of client services, Tim Hobbs, offers his expertise and tips for how to encourage app downloads and engagement below. In the 15 years that Tim has served MRi's clients, he's helped numerous clients develop fun, engaging, and even award-winning apps.
Offering a Transactional Giveaway
Offering a transactional giveaway in exchange for an app download is, according to Tim, a " good tactic within a larger strategy." Essentially, it can help you encourage some quick app downloads, but should not stand alone.
Rather, go into this with the thinking that you're hoping to get a handful of new customers to try and experience your brand. You can have these new customers sample different or new products, engage with your brand, visit your retail location, or complete some other desired action. For example, Panera Bread recently offered a free month of its coffee subscription in exchange for an app download. This of course resulted in a huge increase in the number of people who downloaded Panera Bread's mobile app.
But, keep in mind, Tim warns "there will inevitably be churn or drop-off at the end of the giveaway." From there, your brand must continue to offer value to your consumers and engage with them in new ways in order to keep them coming back.
Track Consumer Behavior to Maintain App Engagement
Now, maintaining engagement is the next step. Tim suggests starting with the basics. Like any athlete or master of their craft, you'll find success in perfecting the fundamentals.
Start to look at customer behavior within your app, and figure out what works and what doesn't work. Continue to invest in what works and ditch what doesn't.
A few things to consider when tracking your app's success:
Of your target audience, who engages with your app the most?
Which features of your app get used the most?
What days or times get the most app engagement?
What other channels send traffic to your app and vice versa?
From there, you can refine your marketing strategy across multiple different platforms to better serve your consumers and maintain app engagement. For example, if you notice that app engagement increases when you share about its features on social media, continue to share those types of posts on social media.
Use Deep Links For Greater Relevance
You can offer more personalized suggestions and give users exactly what they're looking for simply through the use of deep links.
A deep link is a destination URL that brings users to a specific page or screen within your mobile app. It eliminates the initial navigation required to bring users where they want, increasing conversions and reducing bounce rates.
Strategically placing deep links within your brand's content; social posts, blogs, and emails improves the user experience for your app visitors. Plus, sharing a deep link to your brand's mobile app widely will likely cause an increase in app downloads as well. A win-win for you.
Building Your Brand's Mobile App
A full-service promotional marketing agency for nearly 30 years, our team knows exactly what it takes to create a valuable and engaging app for your consumers. Working hand in hand with your team, our in-house developers offer everything your brand needs to launch.
Contact us to begin developing your brand's mobile app today.