Interested in executing a promotional campaign? Why wouldn't you be? Promotional campaigns like loyalty programs, sweepstakes, contests, and games, are not only highly effective tools for engaging and expanding your audience, but they can achieve any number of marketing objectives. Like, boosting sales, building brand loyalty, and keeping your email list fresh, just to name a few. You can check out even more of the benefits of executing a promotional campaign on our insights page.
Executing a promotional campaign comes with a host of benefits, but, as with most good things, comes with a host of complexities as well. Between legal administration, official rules writing, risk assessment, and securing insurance, your to-do list begins to look more like a drug-store receipt (seriously, why are those so long?).
A full-service promotional marketing agency, we have well over 50 years of combined experience administering compliant programs and protecting brands just like yours. Our team of legal experts lend their expertise and share everything you need to know about promotional campaign legal administration below.
What is Sweepstakes Legal Administration?
"Sweepstakes legal administration" includes writing the full and abbreviated rules for the program. Beyond that, our team constantly monitors the progress of the campaign, ensuring all applicable rules are followed.
All promotional campaigns in the United States must have some sort of Full Official Rules guiding the program in totality. Consider these rules your program's guide, anything and everything you need to know about it should be clearly defined.
Luckily for you, we've already outlined how to write your sweepstakes' official rules. Simply read that article (or watch that handy video!) for everything you need to know regarding promotional campaign official rules. For now, though, we'll walk you through some of the basics.
Your Sweepstakes' Official Rules
When we say "in totality" we really mean it. Your promotional campaign's official rules must outline every single aspect of your campaign. You must consider things like:
Who can enter your program?
How do they enter?
How long will your campaign accept entrants?
What qualifies an "entry" as "valid"?
What are the odds of winning?
Much, much more.
When writing your program's official rules, try to be as clear as possible. Consider any and all possible scenarios that may arise prior to, during, or post campaign. In our experience, official rules are one of the more complex elements of sweepstakes legal administration, so exercise extreme care during this step.
For example, not only should you consider what is a valid entry to your program, but also specify what is not a valid entry. Is there anything that would disqualify someone who made a valid entry? Will you accept unlimited entries per participant or cap it at a specific number?
To determine the odds of winning in your sweepstakes official rules, take the number of total prizes awarded divided by the number of total entries allowed. But, since you'll obviously be writing your official rules prior to launch, how will you figure this out if you allow unlimited entries? Well, a little bit of adapting and staying on your toes. In this case, you will simply need to increase the total number of prizes as the number of entries increase in order to maintain those same odds listed in your rules.
If you think you're thinking you can skimp on your sweepstakes official rules because "Whatever, who even reads the full rules anyway?" think again. Over the last 30 years of administering campaigns, we've received countless inquiries about rules, seen traffic directed to rules landing pages, and watched brands receive serious fines and penalties for insufficient sweepstakes rules.
How to Write Your Sweepstakes Campaign's Abbreviated Rules
"Abbreviated rules" surprisingly, are the shortened version of your promotional campaign's official rules. Usually found at the bottom of a promotional landing page or in a social media post's caption, abbreviated rules cut to the chase. Most states require abbreviated and official rules when executing a promotional campaign, so our team provides them in all cases just to be safe.
So, what should your sweepstakes abbreviated rules include? You brand must clearly include the following information in your abbreviated rules:
The campaign name and sponsor
The Alternate Means of Entry (AMOE) details of your campaign
Winner eligibility requirements including residency and age requirements
The odds of winning
Program start and end dates
While your abbreviated rules are a shorter version of your campaign's rules, do not give them the "short end of the stick." Including clear, detailed, and "conspicuous" (meaning you can literally read them, the font is not too small and they aren't hidden) abbreviated rules is just as important to your sweepstakes legal administration as your official rules.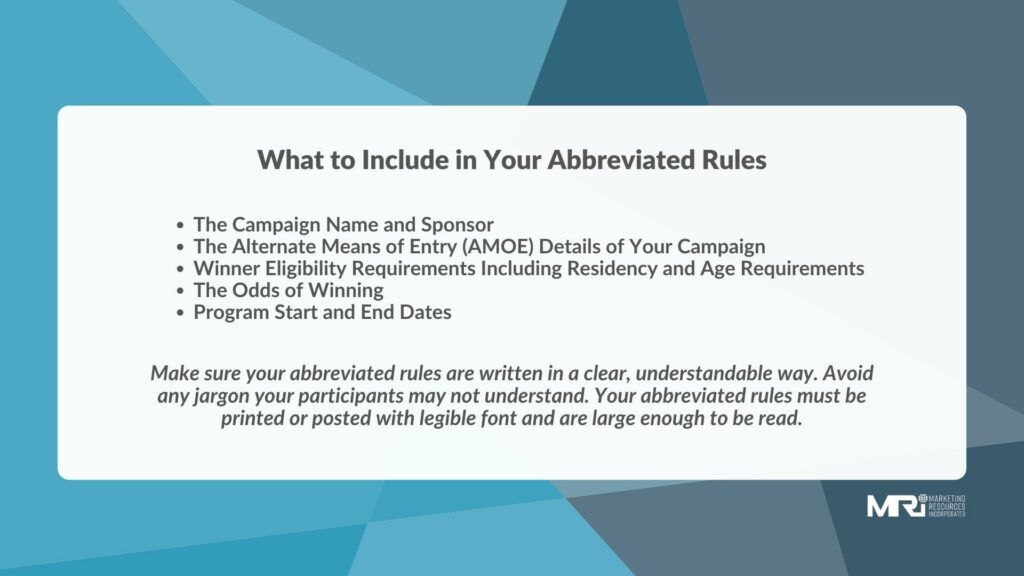 How Important Is Promotional Campaign Legal Administration?
Without promotional campaign legal administration, there are no promotional campaigns. Ensuring your brand executes a fully legally compliant program protects not only your consumers, but your brand as well.
Several state and federal agencies regulate promotional campaigns on a regular basis. There exist entire sections of law dedicated entirely to sweepstakes, contests, games, and loyalty programs. If the government takes sweepstakes legal administration this seriously, you'll want to as well.
We'll start with the basics.
Technically, a "lottery" contains three critical promotional elements:
A Prize
Consideration
Element of Chance
Another hugely important thing to remember about a "legal lottery" is that only the federal or state governments can run them. Anyone else looking to run a promotion (including your brand), must eliminate one of the three. More on legal lotteries and how to be sure your brand does not launch a lottery at our blog here.
Not only that, but not closely enforcing your campaign's rules (even if the campaign itself is "legal") can come with some serious penalties. Our team warns that brands may face "big-time fines (6 figures and above) and Attorney Generals can bring a case against the campaign's sponsor, which has long-term effects on the brand."
Avoid the costly fines and time spent in court, and, most importantly, protect your brand's image with Marketing Resource Inc.'s iron-clad promotional campaign legal administration.
How Does MRi Protect My Brand?
To be reductive, our sweepstakes legal administration protects your brand in a number of ways. All aspects of our legal administration, from the very first conversation we have with your brand all the way to winner notification, have been designed and refined over 50+ combined years of experience. Basically, we know what we're doing because we've done it before—thousands of times.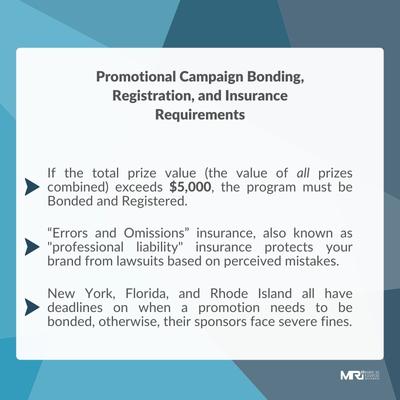 Getting a little bit more specific here, we cross every legal "T" and dot every administration "I" when it comes to legal administration. For example, MRi carries insurance and indemnification specific to your program. Called "Errors and Omissions" insurance, we cover our clients and their brands with an extra layer of specialized liability protection against losses not covered by your traditional liability insurance.
Beyond insurance, we also handle bonding and registration when necessary. According to our team, when a promotion's total prize value exceeds $5,000, the program will need to be bonded & registered. The states of New York, Florida, and Rhode Island all have deadlines on when a promotion needs to be bonded, otherwise, their sponsors face severe fines.
Then, as if all of that isn't enough, our outside legal counsel reviews the program and the rules, conducting a risk assessment and providing guidance.
What To Expect
A full-service agency, we handle every aspect of your brand's promotional campaign. First, we'll begin with a conversation with your team. We'll talk with you to understand details like:
The full consumer experience.
Eligibility and requirements.
Entry methods.
Prizing involved in the program.
All critical information when writing your giveaway's official rules, we also make the effort to understand the above information to ensure our teams remain fully aligned and provide the best service possible to our clients.
From there, we don't disappear. Far from it. Instead, we'll stay close throughout the duration of your promotional campaign. In fact, we'll do program testing or live testing of the program to make sure it consistently remains compliant. The second we notice any errors or discrepancies, we address them immediately. Saving you the hassle and stress of game time adjustments.
Your Brand's Sweepstakes Legal Administration
Marketing Resources has the experience and expertise to ensure your campaign's legal administration runs smoothly. Whenever you're ready to launch your brand's next promotional campaign, let us handle your legal administration needs.