In an ever-evolving digital world, the data landscape serving as a foundation for most marketers is, at best, rocky. At worst, it's a confusing smorgasbord of different laws and regulations, competing consumer preferences and expectations, and changing technology. On top of that, many businesses sit on a gold mine of data and insights, they just aren't using it.
A recent addition to the world of business and consumer data, zero-party data has asserted itself as the most sought-after type of data businesses can gather. Quickly eclipsing first, second, and third-party data, zero-party data offers brands valuable insights.
As more and more brands turn to zero-party data to support their business objectives, now is the time to develop your own strategy for collecting and utilizing zero-party data. That's why we're defining what zero-party data even is, sharing our favorite tips for how to gather it, and offering a few insights along the way.
What is Zero-Party Data?
A relatively new term, zero-party data is simply data collected by your business directly from your consumers. In short, there are "zero" middlemen. Just recently defined by Forrester in 2020, it's data that consumers "intentionally and proactively" share with a brand.
Basically, any personal information coming straight from your consumers constitutes zero-party data. This can look like style preferences, contact preferences (would they rather be reached via phone or email?), demographic information, or really anything your brand can think of.
If there's something you hope to learn about your consumers, your brand can simply ask.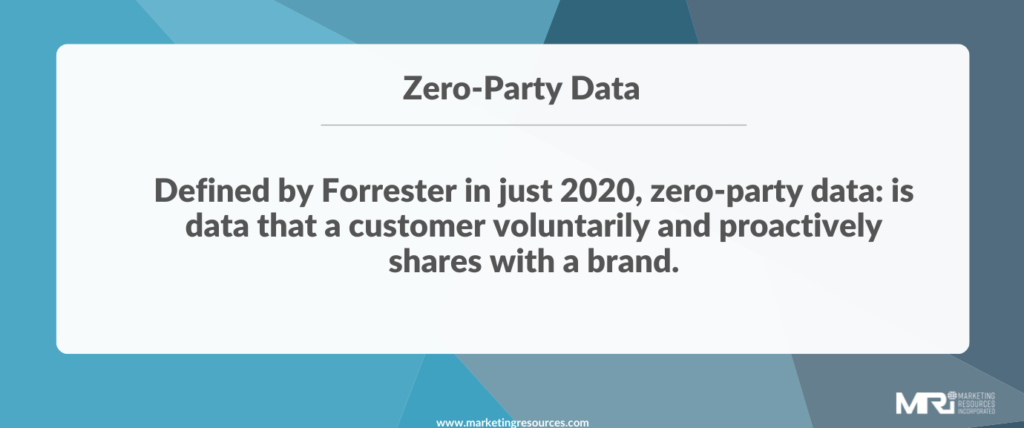 How Does Zero-Party Data Compare to Other Types of Data?
So, how does zero-party data compare to other types of data like first or third party? Remember, not all data is equal. Some of it naturally provides more business value than others. As you consider your brand's data strategy, remain mindful of the benefits and drawbacks of each type.
First-Party Data
First-party data is also information about consumers collected by your brand. While this does sound a lot like zero-party data, there is one key distinction. First-party data is collected or interpreted about your consumers, but it is not provided by them.
For example, first-party data can be information about a consumer's web behavior. The pages they view and content they consume on a particular website are tracked and recorded as first-party data. Similarly, things purchase history, retail-check ins, loyalty program participation, and much more are all considered first-party consumer data.
Simply put, your brand collects the data and information without the help of any third parties, but do not directly engage with or ask your consumers to provide the information.
Third-Party Data
When brands purchase information about their consumers or target audience from other businesses, they're purchasing second-party data. At its core, third-party data is just first-party data captured by one company, then packaged and sold to another.
Third-party data is great at filling in any gaps your own database might have. However, beware of some of the drawbacks of purchasing Third-party data. With literally thousands of companies trying to sell your brand data, not all of it will be equal. Make sure you acquire Third-party data from reliable sources.
Once the big man on campus, third-party data isn't nearly as valuable as it once was. Consumer privacy laws and further restrictions on third-party data collection result in brands relying less and less on the more complex third-party data.
Brands Aren't Utilizing Their Collected Data
As we mentioned above, the data landscape surrounding marketing is oftentimes a chaotic one. Brands of all sizes collect data, whether they're aware of it or not, each day.
It's generally understood that data is the key to unlocking valuable insights for your business. Because of this, most companies prioritize data collection and aggregation to at least some degree. In fact, in our ultra-digital age, data has never been a hotter commodity.
More than 75% of large companies today describe themselves as "data-hungry." What's more, they're eager to implement new and modern initiatives to not only gather but extract value from that data as well.
According to the Harvard Business Review, businesses really do gather data like never before. But, unfortunately, most companies leave a significant amount of data untouched and therefore, wasted. According to their report, for every "big" data set, one that contains at least a billion columns and rows, brands likely have a thousand smaller sets of data totally unused. The reason why? Most brands simply lack the technological support or manpower to sort through, organize, and then interpret all of the data they collect. When they do focus their efforts on data, they tend to just focus on the largest sets, assuming they're the most valuable. But, what do they overlook?
Rising Concerns Around Consumer Data and Privacy
Unless you've been living under a rock for the last decade or so, you're likely aware that consumer privacy concerns are only growing. As we become increasingly digitally dependent and share more of our lives and ourselves online, our personal and sensitive information becomes increasingly at risk.
Bad actors and cyber criminals lurk every corner of the web and seemingly only escalate their attacks lately. According to Security magazine, "ransomware attacks continue at an alarming pace, inflicting serious damage on the victim" leading consumers to be wary of where they share their data.
New regulations such as the California Consumer Privacy Act (CCPA), Europe's General Data Protection Regulation (GDPR), and others only add to the importance of taking care of consumer data. With the threat of real legal action or fines for mishandling data or collecting it without proper consent, businesses struggle to navigate the complexities.
On top of that though, consumers demand more personalized experiences from the brands they choose to engage with. How do brands provide personalized experiences? Analyzing their consumer data and adjusting consumer experiences based on their insights.
In fact, we noted in our Psychology of Brand Loyalty report that one study found that over 80% of consumers are more likely to do business with a company or brand that offers personalized experiences. Even more, a whopping 91% of consumers are more willing to shop with brands that recognize and provide relevant offers to them, and 83% are willing to share their data (so long as they trust you) to make this work.
Enter: Zero-party data as the answer to consumer privacy concerns. When consumers "willingly" share their info, like the 83% above who say they would, they're providing brands with zero-party data.
What are the Benefits of Zero-Party Data?
Arguably the largest benefit of zero-party data is its accuracy. Because it comes straight from the consumer themself, your brand can rely on its validity. After all, who better to give you consumer information than a consumer? Because a consumer is sharing their information with your brand voluntarily, they're more likely to trust your brand and are therefore less likely to share fake information like a phony email.
Furthermore, zero-party data creates a more engaging consumer experience. After consumers share their information and preferences with a brand, that brand can then customize its offers and curate experiences to better serve consumers. Not only are you able to meet the ever-evolving needs of your consumers this way, but you're also creating a positive feedback loop between your brand and consumers. The more positive experiences your brand can provide them, the more likely they are to continue to engage with your brand and purchase your products or services.
A third very powerful benefit of collecting zero-party data is that it effectively allows your brand to sidestep many of the laws and regulations muddying up data collection. Instead of using tracking pixels or some third-party software to gather information without consumer knowledge or consent, they're giving it to you.
As consumers continue to become more privacy-aware and concerned about who has their information, zero-party data offers brands a respite. Now able to create more personalized experiences and trusted relationships with consumers, the wealth of knowledge zero-party data provides cannot be understated.
Best Practices Collecting Zero-Party Data with Engaging Experiences
With the benefits of zero-party data clear, it's time to consider the actual strategy of collecting it. While it might seem as simple as simply asking your consumers the questions you need answers to, it might not always be that simple. Instead, in today's day and age, when a person sees anywhere between 4,000 and 10,000 advertisements a day, you'll need to sweeten the deal a bit. While devising your methodology for data aggregation, be as engaging as possible in order to increase the likelihood of consumers responding.
For example, e-commerce or retail sites can quickly and easily engage their visitors with a simple pop-up question like the one pictured below. Without even realizing they're being asked for their personal information (in this case, their preference), consumers quickly (and honestly) answer the question and are then presented with content, products, and resources based on their response. On one hand, you're providing a better customer experience and meeting their needs with unique, personalized experiences. On the other hand, you're easing the sales cycle and increasing the likelihood of your visitors converting. If you ask us, those both look like winning hands.
However, if your web visitors offer their zero-party data to your brand, they do expect you to use it appropriately. Not only does this mean you must take care to protect that data and not share it, but you must also show your customers how you use it.
In our example above, had a consumer indicated that they're interested in a loyalty program and we said "Great, thanks!" and shared info regarding sweepstakes, they'd probably be annoyed. In fact, they'd likely even abandon our site because the info they need seems either nonexistent or too hard to find. A lost opportunity.
However you prompt your target audience to share their zero-party data, do so sparingly so as not to annoy your consumers. Pry too deep, and you may just turn your audience away. Similarly, prompt them only when absolutely necessary. Refining your brand's data collection strategy is critical in determining which questions you'll ultimately ask your consumers. What data does your brand absolutely need? What data will make for a better consumer experience? And what are your consumers actually willing to share?
Zero-Party Data Collection Made Easy with Promotional Marketing Campaigns
For brands interested in collecting their own valuable zero-party data, promotional marketing campaigns offer an effective and engaging way to do so. At MRi, we specialize in developing strategic promotional solutions to your toughest problems. Whether you're looking to engage your audience, learn more about them, expand your reach, sell more products, or something entirely different, our team of promotional consultants is here to help.
It's no surprise that promotional marketing campaigns are becoming increasingly sought-after programs to help support the overall marketing efforts of brands of all sizes, all across the globe. The types of promotions we develop not only engage and delight your consumers but also collect troves of reliable zero-party data.
Collecting Zero-Party Data with a Sweepstakes Campaign
Consider a promotional sweepstakes for collecting zero-party data, for example. After we've identified your brand's unique purpose and developed a solution to reach it, our team gets to work strategizing on your campaign. As part of any successful sweepstakes campaign, consumers exchange their info in order for a chance to receive the prize or reward. With our help, a carefully crafted sweepstakes entry form asks the right questions in the right way in order to collect the valuable zero-party data your brand needs.
Specifically, a QSR brand might offer free or discounted meals to consumers who complete a survey. Depending on that QSR brand's goals, the survey would ask questions to help reach them. For example, a QSR chain hopes to improve its in-store customer experience and asks consumers to rate their current experience, offer suggestions for improvements, and list features or services they'd like to see in the future.
From there, our consultants would scrape through the results of the survey and provide the context the QSR brand needs to improve its experience. With our guidance, they now have the insight they need to laser-focus on only the most important aspects to their consumers.
Loyalty Programs Offer Rich Data
Further, loyalty programs and promotions offer brands rich zero-party data throughout a customer's entire lifetime, not just during a single campaign. Because of this, more and more brands turn to us to develop strategic loyalty programs to collect information and continually meet their consumer's needs.
A loyalty program can collect zero-party data in several different ways. One effective example is simply tracking purchase history. With this, brands can see over an extended period of time a tremendous amount of information about their customers.
Their favorite products
Their least favorite products
How often they shop with your brand
What price points they will purchase a product at
Which discounts or sales motivate them to convert
Much, much more
As you can see, this type of information offers tremendous value to brands that utilize it properly. Brands can adapt their strategies and offerings to their loyal customers based on the type of feedback they receive from their loyalty program.
Vice President of Client Services, Tim Hobbs, encourages brands eager to collect zero-party data to consider a purpose-driven loyalty program. "In my opinion, a loyalty program is one of the best options for data-hungry brands. We can customize the program so we're pinpointing exactly the type of information the brand wants to collect, and continually adapt based on the results. At the end of the day, you have happy consumers and a happy brand." 
Marketing Resources Inc. Is Here To Help
For savvy marketers looking to stay ahead of the curve (and their competitors), it's time to refine their zero-party data collection strategy.
An award-winning marketing agency for over 25 years, the team of consultants at Marketing Resources Inc. is ready to help your brand develop an effective plan. Whether you have troves of data and don't know what to do with it, or need help collecting it, contact us to unlock your brand's zero-party data today.