There's no denying that sales and marketing are chock-full of confusing phrases and buzzwords. An industry in constant evolution, it seems like we're always being told of the latest trend or the hottest new tactic. However, one thing always remains certain; improving user experience and reducing friction creates an easier path to conversion.
Sounds simple enough, right? The better the customer experience, the more likely they are to do business with your brand. But, what does that really mean? What is "user experience" and how can you work to improve it?
We've tapped our team of promotional marketing experts, including our Senior Vice President of Client Services, Tim Hobbs, our Vice President of Client Strategy, Adam Davis, bringing 25 collective years of experience in promotional marketing. With their help, and some gold old primary research (trial and error over years of marketing), we're sharing everything you need to know about improving your user experience.
Seriously, What is "User Experience?"
"User experience" (UX) is simply the journey a user takes when interacting with a brand. To be very reductive, it refers to the general "vibe" users feel whenever and however they engage with a brand. Whether it's online, in-person, or a combination of both, your user experience has a massive impact on whether or not users become customers.
Items That Influence User Experience:
Website copy and messaging
Placement of ads, both digital and physical
Customer service
Placement of buttons and navigational tools online
Call to action messaging and placement
Speed of website or app
Much more
As you can see, nearly every aspect of the user journey influences your overall user experience. It makes sense then, that a better user experience leads to more conversions. But, why? Sometimes defined as the "science and art of designing experiences," UX influences every action a consumer takes, even if they don't realize it.
The easier or more enjoyable it is for users to engage with your brand, the more likely they are to engage. If your website or store makes it hard or frustrating to complete an action, more and more users will abandon the task altogether.
Think about the last time you visited a website that just didn't seem to work properly. Did you stay around for very long to figure it out? Probably not. Your consumers feel the same way.
The User Experience Honeycomb
At MRi, we love simplifying things as much as we can. Thankfully, there already exists an easier framework for understanding what exactly user experience is. Coined by marketing and analytics guru Peter Moreville, the user experience honeycomb reflects the different elements that comprise user experience.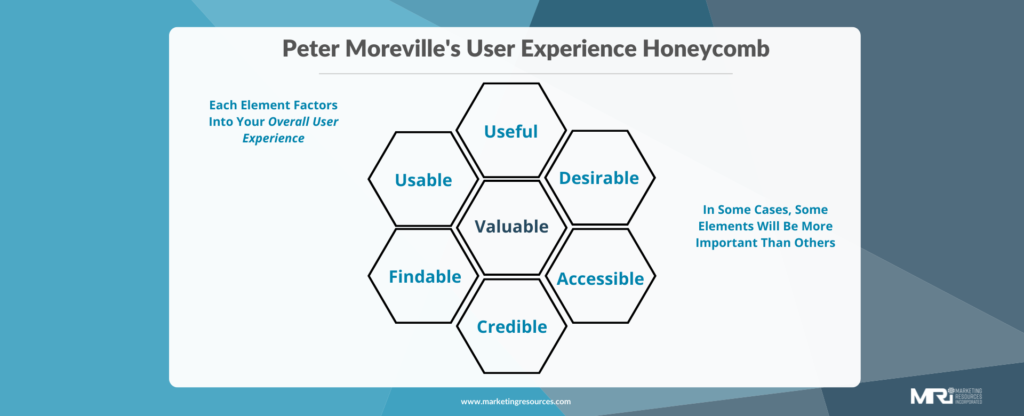 Useful: Does your product or service provide value to end users? Does it fulfill your consumers' needs?
Usable: The ease of use associated with interacting with your brand. Are your web pages easily accessible? Is there a learning curve to using your product, service, or website?
Desirable: Is your product or service attractive to users? Do they even want to engage with your brand in the first place?
Findable: Is important information easily accessible? Can users find your product on a store shelf? Can your website be easily navigated?
Accessible: Is your product, service, or website designed for users of all abilities? Will a user with a disability have the same exact experience as a user without a disability?
Credible: Is your brand, product, service, or website trustworthy? Does everything "look legit?"
Valuable: Do you accomplish your mission? Does this contribute to your bottom line and meet your consumers' needs?
This honeycomb, and user experience in general, will look different for every brand and even for separate campaigns. For example, some brands may find the usability of their product far more important to their overall user experience than its desirability, or vice versa.
As always, keep your particular brand and its needs in mind when working with the user experience honeycomb.
User Interface or User Experience?
You might be thinking about "user interface" and how it influences your user experience right about now. And, if you're not, that's totally fine too, we'll explain it to you either way.
First and foremost, "user interface" and "user experience" are not interchangeable. They are similar but not the same thing. "User interface" refers to the visual elements of your product, service, or website. Similarly, "user interface" is commonly used in reference to the software or computer system powering your brand's experience.
While these are important aspects of your overall user experience, they are not the total experience. Rather, try to think of your user interface as something that influences your user experience.
How to Improve Your User Experience
Obviously, improving your user experience influences more users to complete your desired action but how do you actually, you know, improve your user experience? Since it is such an all-encompassing term, there are, admittedly, probably a thousand or so different activities that improve your user experience.
You can test them all yourself, or you can take our advice below, comprised of over 25 years of experience and countless hours helping brands refine their user experience. Totally your choice, but like, we do have some pretty solid solutions below. Just saying.
Customer-Centric Digital Services to Ease Friction
An industry leader in innovative digital solutions, we pride ourselves on staying one step (or two, or three,) ahead of the trends and offering our clients the coolest, most accurate, and most secure digital capabilities.
It's no secret that our world has become increasingly digitized over the years. Computers have gotten faster and smaller, with digital experiences creeping into more and more aspects of our lives each day. The old saying "there's an app for that," has never been more true. Because of this, your consumers simply demand more from the brands they choose to engage with.
Offer them more with a selection of powerful and exciting digital services, designed not only to wow your consumers, but to also improve their user experience.
OCR and Visual Recognition Create Greater Online Accessibility
One surefire way to offer greater access to your brand's digital experiences is to give your consumers a "key" in wherever they're likely to engage with your brand.
OCR, or optical character recognition, is the process by which a camera (usually in a smartphone) interprets characters or letters in the physical world. Simply hold your camera up to a sign or, most commonly, a receipt, and let it do the work for you.
Typically, we implement OCR for cases of receipt scanning. Consumers can quickly and easily accomplish any number of digital activities simply by scanning their receipts.
OCR Uses to Improve User Experience:
Validate Purchases
Track Reward Points
Take a Survey
Visit a Link
Open a Mobile App
But wait, there's more! With OCR, not only do you provide your consumers a faster, more convenient experience, but you're also able to collect a treasure trove of valuable consumer data. With this information, your brand can make even more strategic decisions and better serve your consumers.
Similar in practice with just a few different capabilities, visual recognition also interprets the physical world around it. Able to interpret more abstract items and objects (like a logo already printed on a can), visual recognition allows users to trigger digital actions with ease.
According to vice president of client strategy, Adam Davis, "OCR and visual recognition both offer our clients new and convenient ways to capture their audience's attention. In most cases, visual recognition can accurately scan a pre-existing image, so you don't even need to create new branding or creative assets. I mean, it's honestly pretty cool."
By eliminating the need to navigate to your promotional landing page or app, your brand eases the process for users. Significantly. The faster they can access your digital content, the faster they can engage with it. Plus, Adam was right, it is just pretty neat. See for yourself.
Boom. That easy. Our industry-leading digital services like OCR and visual recognition instantly direct users to your brand's most valuable digital assets.
Add Location-Based Digital Services to Automate Digital Interactions
Have you ever wished you could just pop into your consumers' minds at a particular time or place? You totally can with geofencing!
Have you scrolled through Snapchat or Instagram lately and played around with any of the cool filters they offer? Among a few other groundbreaking technologies (which we'll get into later), you can explore geofencing at work here.
Basically, you draw a digital "fence" around a geographical area (get it, geo+fence?). Whenever a connected device like a smartphone, tablet, or watch, enters that area, the user gets a certain notification, determined by your brand. So long as users have their GPS location services on (most people do, but keep in mind that it's becoming increasingly popular to turn them off lately), they'll receive a custom message directly from your brand.
Tim Hobbs, senior vice president of client services has seen several successful applications of geofencing in his 15 years with Marketing Resources Inc. "Really, the opportunities are as wide as your imagination. We're giving brands the chance to reach out to a consumer the second they walk into a store, or an event, or really anywhere. The message can say whatever you want, and even include links or photos"
Think of all the different ways you can use geofencing to your brand's advantage. For example, you might want to set up a geofence around a big box retail store that stocks your products. When visitors to the store walk in, they're immediately greeted by a text from none other than your brand.
Stay top of mind with your consumers when and where it matters the most with a targeted geofencing campaign.
Create A Seamless Rewards Experience To Encourage More Conversions
Digital rewards and rebates activate your consumers. Turn your "might" purchase customers into "might as well" purchase customers with a well-timed, strategic rebate or reward. Your brand can develop a flexible & positive user experience that allows for quick activation of your programs.
Digital rewards give your consumers the nudge they need, when they need it, to take whatever your desired action is.
At MRi, we give brands the ability to link directly to their consumers' digital wallets, offering truly instant gratification. Nothing satisfies a consumer more than what they want when they want it. We don't need to tell you, you savvy marketer, that the more positive associations you make with your consumers, the more likely they are to stay consumers.
Through our powerful rebates and rewards programs, your brand can create a seamless experience for your consumers, making converting easier than ever before.
Improve Your Own User Experience with Marketing Resources Inc.
At Marketing Resources Inc., we're proudly a full-service promotional agency. We're eager to execute any and every element of your promotional campaign, including next-gen digital services.
Our team of devoted promotional marketing consultants, like Tim and Adam, have the resources and knowledge to help you improve your user experience. We bring ease and convenience, and, let's face it, a little bit of a "wow factor" to each campaign we administer.
For nearly 30 years, we've provided our clients with top-notch, white glove service to help them launch their programs. Let us help you launch yours. Whenever you're ready, contact one of our promotional marketing experts to get to work on your campaign today.