So, you've planned a promotional campaign. Whether your brand hopes to run a promotional sweepstakes, contest, game, or rebate incentive, your campaign of choice can help boost brand awareness, drive customer acquisition and loyalty, and so much more. No matter your marketing goals, there's surely a marketing promotion that can help you meet them.
But, how do you meet your marketing promotion's goals itself? After all, while they are incredibly effective tools, promotional campaigns aren't magical. You don't exactly press send on an email, launch a sweepstakes and watch the leads roll in (wouldn't that be nice, though). Rather, your brand must adequately promote your promotion in order to reach its goals and impact your business's bottom line.
Because of this, incorporating your brand's promotional campaign into its greater marketing strategy is critical to making the most of your investment and achieving a positive ROI. With nearly 30 years of experience helping some of the largest brands in the world execute award-winning promotional campaigns, our team has the expertise your brand needs to run an effective campaign.
Sharing Your Promotion On Social Media
Social media offers plenty of opportunities and benefits to brands looking to run a promotional sweepstakes or contest. Not only do they make for fantastic tools for accepting entries, but they can also spread the word about your campaign and encourage even more people to participate.
Whether or not your brand chooses to accept campaign entries on social media, you should 100% plan to share its details on social media. Keep in mind, if you do choose to accept entries, you'll want to make sure your campaign abides by all local and national social media giveaway rules and guidelines. We outline them for your convenience.
Make the most of your social media posts. Share at times when your target audience is most likely to be online, on the platforms they frequent, and in the media they prefer. For example, if you find that most of your target market works a 9-5 job, and engages with your brand on Instagram Reels, why would you share a text-forward post in the middle of the day on LinkedIn? You might write the best, most clever social media post ever but if you don't optimize your strategy, it'll never help your brand reach its goals.
*A few very important disclaimers when it comes to social media and promotional giveaways.
You MUST state in your social media post that what you're posting about is a promotional campaign. The FTC regulates social media giveaways, so avoid getting on their bad side and use a safe hashtag like #contest or #sweepstakes.
You may NOT use (or allow participants to use) copyrighted content. All of those awesome, viral TikTok audios? Most of them are unavailable to your brand. However, it's your responsibility to ensure that none of your participants use them in their submissions, either.
Be careful about your vocabulary. Keeping "sweepstakes," "contest," and "giveaway" straight is no small task on its own. On top of that, your brand must also beware NOT to use the term "lottery."
Promote Your Campaign Through Your Mobile App
Your brand's mobile app, assuming you have one (if you don't, check out all of the benefits our team provides here), is uniquely equipped to promote pretty much anything your brand wants to promote. Why not give your promotional campaign an extra boost?
Consider sending a push notification to all users who've downloaded your app, alerting them to the benefits of your campaign. Unlike any other form of communication, a push notification puts your brand front and center, right on your user's home screen. That sort of brand positioning is invaluable. From there, you can maximize your contest or sweepstakes participation and accept campaign submissions via your app.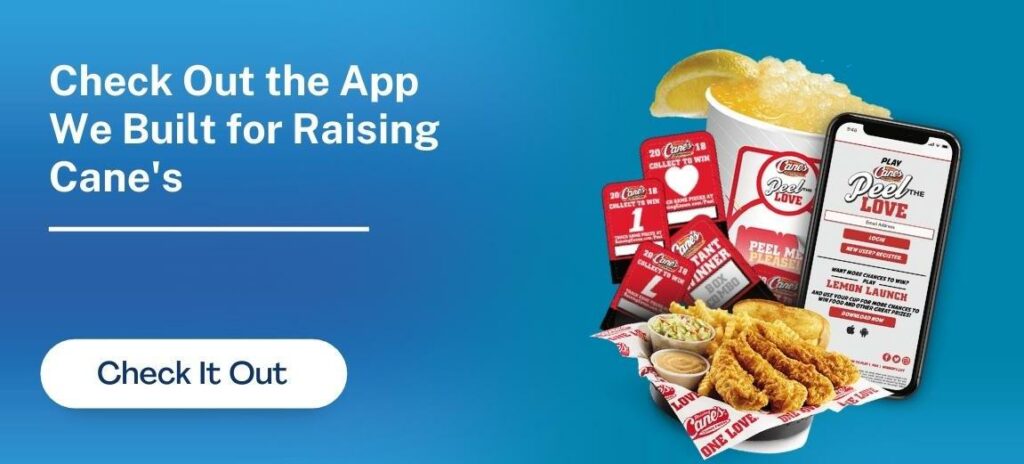 Whatever you do, make sure all of the pertinent information you need about your promotional campaign is both easily accessible and shareable within your app. The best kind of media is earned media, so make sure your brand makes it as easy as possible for your fans to share your promotion with their family and friends.
Partner With Similar Brands or Retail Locations
When it comes to advertising your brand's promotional campaign, the more the merrier. Identify relevant brands or retail partnerships that make sense for your brand, and boost the reach of your campaign's messaging.
Consider other brands that have a similar target audience, sell similar products, or that match your brand's identity or mission in some meaningful way. For example, if your brand sells skateboards, you might find some luck partnering with a local energy drink (extreme sports and energy drinks are a match made in heaven). From there, both brands have a vested interest in the long-term success of a promotional campaign, as it serves both of their markets and benefits them each.
Similarly, your brand can earn valuable shelf space in important retail locations and markets by developing a solid relationship with retailers. For example, a beverage and snack company may want to join forces with a convenience store chain to promote its sweepstakes or contest to a wider audience and capture the attention of all of the in-store shoppers at that store. The beverage and snack company has the opportunity to attract more customers and participants, while the convenience store has the opportunity to boost their in-store traffic (and therefore overall sales, whoever goes to a convenience store and buys one thing?).
Our team has seen a ton of success focusing on retail partnerships for more localized campaigns. For example, if your CPG brand identifies a need to boost sales in a particular region, seek out a store unique to that region. A slightly smaller footprint and reach, regional stores (like Buc-ee's in the Southeast) tend to illicit stronger customer loyalty. Hitch your brand to that wagon and watch your partners' loyal customers become your loyal customers. With this, both brands experience positive rewards and successfully promote a promotional campaign.
Be Prepared to Adapt and Respond to Needs
At the end of the day, you can arm yourself with as much strategy and as many backup plans as you'd like, but you'll still run into some obstacles. Unfortunately, that's life. Especially in marketing. Especially during an uncertain and historic economic situation like the one we're facing.
Our team's final recommendation to you when it comes to promoting your sweepstakes or contests is to be prepared to adapt and respond to changing circumstances or needs. As we saw with the pandemic, truly anything can happen, like closing all non-essential businesses to in-store shopping, a devastating move for most.
When something like this happens, the strongest brands have redundancies and plans in place that allow them to respond quickly to whatever life throws at them. Like a global supply chain issue. Or a war. Or an ecological crisis. Instead, brands that go all-in and lean on their other strategies in place, like a strong loyalty program, or an engaging sweepstakes, tend to weather these storms better than those who do not.
Marketing Resources and Your Promotional
A full-service promotional marketing agency for nearly 30 years, our team knows exactly what it takes to develop and launch an effective promotional campaign. Whether your brand or clients hope to increase brand awareness, drive revenue, foster consumer loyalty, or achieve something else entirely, our team of dedicated professionals is here to help every step of the way. Let's chat and begin developing your brand's promotional campaign today.