As a marketer, you know accurate consumer data is like gold to your business. It opens up a world of knowledge that allows your brand to more effectively market your products or services to your target audience.
We've enjoyed relatively unregulated access to our consumers' online behavior over the last decade or so with third-party cookies. Able to monitor and track one's behavior across the web, brands and agencies alike have had a clear view of where we spend our time online and what we do. With such a treasure trove of data to explore, brands can better understand their consumers, segment their audience, and personalize their outreach, all of which help make their marketing more effective. All made possible by these powerful little third-party cookies. Until now.
With third-party cookies phasing out within the year due to privacy concerns and increased regulations, marketers must adapt and find new ways to collect valuable zero-party data and create engaging, targeted marketing campaigns.

Enter the retail media network.
What is a Retail Media Network?
In short, a retail media network is a platform that connects retailers and brands to provide targeted advertising to their consumers. But, of course, it wouldn't be marketing if it were truly that simple. So, let's get into the details.
Behind most retail media networks are what's called an SSP and a DSP. An SSP, a supply-side platform, is an advertising platform designed to organize and publish a supplier's "ad inventory," which, in this case, is their digital ad space. A DSP, a demand-side platform, allows an advertiser to buy that digital ad space and manage advertising campaigns.
Through retail media networks, advertisers (like your brand) can place programmatic ads.
Programmatic advertising refers to the use of software to automate the buying, placement, and optimization of online advertising. This process eliminates the need for manual negotiations, manual insertion orders, and manual ad trafficking
Retail media networks are typically managed by the retailers themselves. For example, several major retailers have already created their own networks, like Walmart, CVS, and Ulta. The retailers then take advantage of the extensive zero-party data they are able to collect on their consumers through their own sites to create advertising experiences that are relevant, personalized, and valuable to both the consumer and the brand.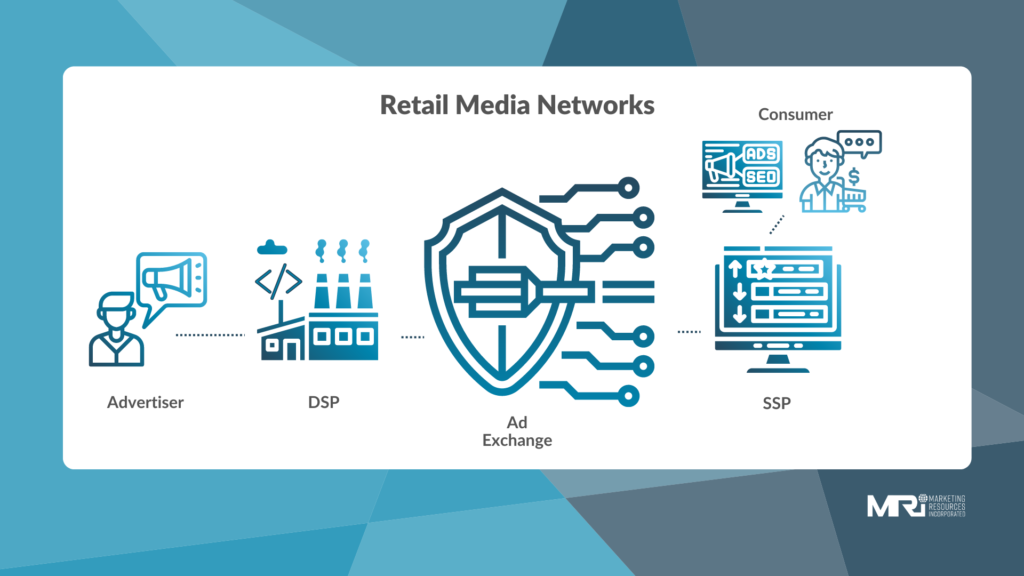 The Importance of Retail Media Networks in Today's Digital Age
One of the greatest factors impacting the rise of the retail media network is the impending loss of third-party cookies. We mentioned above that third-party cookies are being phased out within the next year, leaving marketers in all industries without a constant influx of valuable consumer data.
Retail media networks, on the other hand, allow brands and retailers to partner with one another and exchange the data they have. For example, consider retail giant Walmart, which, as mentioned above, already has its own retail media network platform. Across its app, website, and of course, retail locations, Walmart directly collects billions of data points on its consumers. They monitor things like website behavior, purchase history, and ad engagement, just to name a few.
This information is gold to other brands with similar target audiences. What marketers just lost through the deprecation of third-party cookies, they gain through access to robust retail media networks.
The Shift to Retail Media Networks from Traditional Advertising
The ad industry continues to evolve in tandem with technological advancements and consumer sentiment. Recently, the use of third-party cookies has raised alarms among consumers who consider the tracking to be increasingly invasive. On top of that, the lack of regulation has resulted in a level of secrecy and consumers aren't even sure what data is being collected about them. As a result, ​regulators and browsers have started to take action to restrict the use of third-party cookies.
The online marketplace continues to grow year over year, with about 20% of all retail transactions taking place online. With over 2.3 billion online shoppers each year, no brand can afford to ignore the digital marketplace.
So, publishers and advertisers are able to adapt and shift to retail media networks. On the rise, retail media network spend is expected to hit $51.4 billion this year. That's an increase of 26% year over year, according to AdAge. According to Forbes, retail media networks are "the fastest growing ad-supported digital media channel."
What are the Benefits of a Retail Media Network?
Retail media networks provide several benefits to both advertisers and publishers.
Increased Reach and Brand Awareness
One clear benefit of running programmatic ads through a retail media network is the immediate boost to your ad's reach and therefore, brand awareness. With this, you know exactly where your ads appear online, and can in turn use that to your advantage to get the most relevant impressions you possibly can.
Some more traditional methods of advertising limit your ability to place ads where you want. However, with a retail media network, you can tap into the enormous potential of a retailer's distinct audience.
Better Targeting
Similarly, retail media networks empower brands and agencies with more accurate and specific targeting.
As mentioned above, advertisers can now choose exactly where their digital ads appear online. Savvy marketers prioritize only the most relevant networks that offer them the highest chance of converting a retailer's audience into their own consumers.
For example, consider a CPG brand that sells snacks and beverages on the go. Previously, this brand would have to employ more of a "spray and pray" advertising strategy, hoping the digital ads they placed would just show up where their consumers spent time online.
Of course, it wasn't the dark ages and advertisers could employ some level of targeting, retail media networks simply cut out the middle man and give advertisers direct access to the platforms they want to appear on.
Improved Engagement
With increased accuracy and better targeting comes improved consumer engagement.
Retail media networks create a more personalized shopping experience, showing your consumers products and services they actually want when they're ready to buy. These programmatic ads use the wealth of consumer data retailers have, and match segments of consumers with only the most relevant ads.
Retail media networks often use native advertising to seamlessly integrate ads into the shopping experience. This type of advertising is designed to look and feel like the surrounding content, making it less intrusive and more engaging for customers.
Not only that, but ​​retail media networks use data to optimize their ad campaigns in real time. This helps to ensure that ads are delivered to the right people at the right time and that they are as effective as possible.
Access to Valuable Data
Of course, the main benefit we've been talking about this entire time is the access to valuable data supplied by retail media networks. Advertisers gain access to a retailer's first-party data when using a retail media network.
Not only are you able to tap into a tremendous amount of data that's already been collected, but you can also improve the accuracy of future data collection as well.
For example, with programmatic advertising, brands can now more accurately link their ads to conversions. They're able to know exactly which ads on exactly what app or website resulted in a consumer's purchase.
This access to richer data unlocks a world of knowledge and possibilities for brands. This insight informs all other aspects of a brand's marketing strategy, including ad placements, bidding, and design.
Your Brand's Retail Media Network Strategy
However you look at it, digital advertising is constantly evolving. As a marketer, it's up to you to stay on top of important shifts in regulations and consumer sentiment.
As you can see, retail media networks provide brands and publishers a leg up in the oversaturated, competitive marketplace. By leveraging data and insights, they provide a personalized and relevant shopping experience that can lead to increased ad engagement and better results.
If your brand wants to take advantage of the benefits of retail media networks, contact us today.