The savvy brand marketer you are, surely you're well aware of customer loyalty programs and why your brand might want to execute one. Of course, you already know that loyalty programs nurture your customers, meet their evolving needs, and foster greater customer loyalty. But, have you considered the benefits of a premium loyalty program for your brand?
At its core, a premium loyalty program is one that participants pay to access. Rather than only sharing their information (known as zero-party data) with you in exchange for rewards and services, they also pay a fee. Premium loyalty programs may offer a variety of extra valuable rewards to their participants that standard loyalty programs lack.
At Marketing Resources Inc., we have nearly 30 years of experience executing effective, award-winning loyalty programs. In fact, one of our earliest and longest-running programs is the award-winning Foodland Supermarket program in Hawaii. That's why, when it comes to loyalty programs, including premium ones, we're the right choice for meeting your brand's goals. 
What Makes a Premium Loyalty Program Different?
As mentioned above, a premium loyalty program is a transaction-based program as opposed to a free one. Participants pay some sort of membership fee in order to reap the rewards. But, what really makes a paid program different from a traditional loyalty program?
Simply put, thoughtful these programs are custom-built to meet the needs of your brand's most valuable customers. Ditching the one-size-fits-all approach of many traditional models, premium programs offer curated experiences and rewards sure to bring the most value to your members.
Not only that, a fee-based program creates an enticing sense of exclusivity. As we've reported before, exclusive offers motivate more consumers to complete your brand's desired actions. For example, enrolling in a loyalty program, signing up for a newsletter, or simply purchasing an item. Pair that with the glitz and glamour of a premium loyalty program and your consumers will be chomping at the bit for the opportunity to join.
What Are the Benefits of a Premium Loyalty Program?
These programs give your brand's most valuable consumers what they want when they want it. They allow consumers to unlock the most coveted discounts and rewards your brand offers, creating extremely positive associations with your brand. In addition to all of the benefits of a standard loyalty program, premium programs offer even more value to the brands that execute them.
When your most loyal customers feel as rewarded and cared for as they do when they enroll in a premium loyalty program, they tend to stick around. What's more, they'll usually spend even more money with your brand, and encourage their friends and family to do the same!
Further, premium loyalty programs give your brand a boost of cash flow. The fee your participants pay to join can immediately go towards rewarding them. A traditional loyalty program, on the other hand, takes time. Members must accumulate rewards over an extended period, often times losing interest along the way.
Premium loyalty programs similarly tend to have higher retention rates than their complimentary counterparts. Premium loyalty members pay for their experience and are therefore less likely to abandon your brand. From their perspective, they've already spent their money with your brand, they may as well continue to shop with it.
Are Premium Loyalty Programs Worth It?
Whether your brand decides to develop a premium loyalty program or not is, of course, entirely up to you. To help you decide if a fee-based program is right for your brand, let's take a look at some of the supporting facts.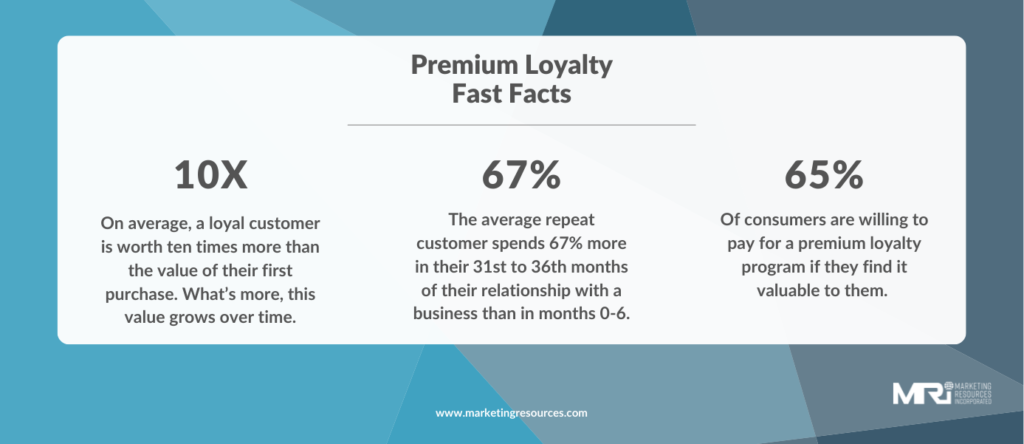 Fact #1: Loyal Customers Spend More
On average, a loyal customer is worth ten times more than the value of their first purchase. What's more, this value appears to grow over time. Meaning the longer you nurture a loyal customer, the more valuable they become. For example, the average repeat customer spends 67% more in their 31st to 36th months of their relationship with a business than in months 0-6. That's 3 years of value from just one customer.
Fact #2: Consumers Willingly Join Free Loyalty Programs, But Rarely Participate
According to a recent report by COLLOQUY, the average household enrolls in 12 loyalty programs, but only remains active in about 4 of them. That's nearly ⅔ of all "loyal" members who actually aren't loyal at all.
The reasons for dwindling activity in a loyalty program are as numerous as the reasons for joining one. However, some of the most common factors leading to a lack of participation are: rewards take too long to earn, rewards aren't valuable enough, the program fails to make a deep emotional connection with its members.
A fee-based program, on the other hand, addresses those factors and more by offering members the most engaging experiences possible. Avoid dwindling engagement and maintain a strong relationship with your consumers through a purpose-driven premium loyalty program.
Fact #3: Consumers Are Willing to Pay for Premium Loyalty Programs
While not every single consumer will want to shell out the extra cash for a premium loyalty program, the data shows that many of them will. A recent survey found on Total Retail finds that nearly ⅔ of respondents would pay to enter a premium loyalty program.
Younger consumers, millennials, are even more likely to want to pay for the benefits of a loyalty program. The same study mentioned above also found that 75% of 18-24-year-olds are willing to pay, and 77% of 25-34-year-olds are.
Fact #4: Consumers Value Premium Loyalty Programs
Almost half of all respondents (47%) answered that they truly believe fee-based programs provide better rewards than free programs.
When the perceived value is there, consumers report feeling more likely to want to spend money. In fact, 65% believe that rewards are worth paying for, so long as they're personally valuable to the consumer.
Develop Your Brand's Premium Loyalty Program
The evidence is clear. Premium loyalty programs offer even more of the valuable rewards and discounts your customers crave. While not necessarily perfect for every type of customer, premium loyalty programs nurture only your most valuable consumers.
When developing your brand's program, keep in mind that you must first deeply understand your target audience. Their values, likes, dislikes, and more. Without this, any sort of loyalty program or promotional campaign lacks meaning and fails to make a difference in the lives of your consumers.
Looking to develop your brand's custom premium loyalty program? Contact one of our promotional marketing consultants today to get started.