In our increasingly digital world, artificial intelligence is becoming more and more sophisticated and easing the lives of technological early adopters. Look around your office, whether home or corporate, and count the number of smart devices at your fingertips. Probably more than you'd think, right?
Arguably, one of the more remarkable leaps in technology as of late takes place right in your phone. Optical character recognition or OCR is the process by which images of graphics or text captured by your phone's camera are converted into digital files. Actually originating decades ago in the early 90s (yes, the 90s really were decades ago), OCR has been used to transform handwritten documents into modern digital formats.
Thankfully, optical character recognition has improved beyond its capabilities from the early 90s, making it both more accurate and accessible. Today, OCR technology simplifies data collection and creates a seamless user experience for several aspects of promotional marketing.
Brief History of OCR
Optical character recognition's roots run deeper than you might expect, with iterations coming long before the 90s. The original OCR invention comes from the 70s, believe it or not.
The 1870s, of course.
Yes, you read that correctly. The very first official OCR invention is credited to American inventor Charles R. Carey, who invented the retina scanner. Text-to-speech machines of multiple variations followed over the next several decades.
As mentioned above, OCR technology as we know it today proliferated the market in the late 80s and early 90s. In fact, the U.S State Department funded the development of the first optical character recognition scanner for passports. Price tag scanners followed shortly after, championed by Sears and Kmart, the industry giants of the time.
Optical character recognition, unlike some of its early adopters, has stood the test of time and only gotten better with age. Today, OCR technology is as simple as snapping a photo with your phone, offering users instant, accurate readings of their data.
How it Works
To simplify a relatively complex technology, optical character recognition works by analyzing the light and dark contrast created by letters or numbers on a background. More primitive versions of OCR, like those that came in the late 1800s through the mid-1900s, worked with specific fonts or characters, and could only interpret those. There's even a font called OCR-A from the 1960s created specifically for this purpose!
Back then, creating a simple, standardized font for checks and other bank documents was easy enough and solved the issues of the time. The only problem.. Most of the world doesn't use the monospaced and, frankly, boring font. Optical character recognition was limited by the capabilities of the time, therefore.
As time has progressed and the technologies have improved, some visual recognition software can not accurately process several types of fonts and in some cases, an individual's own handwriting. This is appropriately referred to as Intelligent Character Recognition (ICR).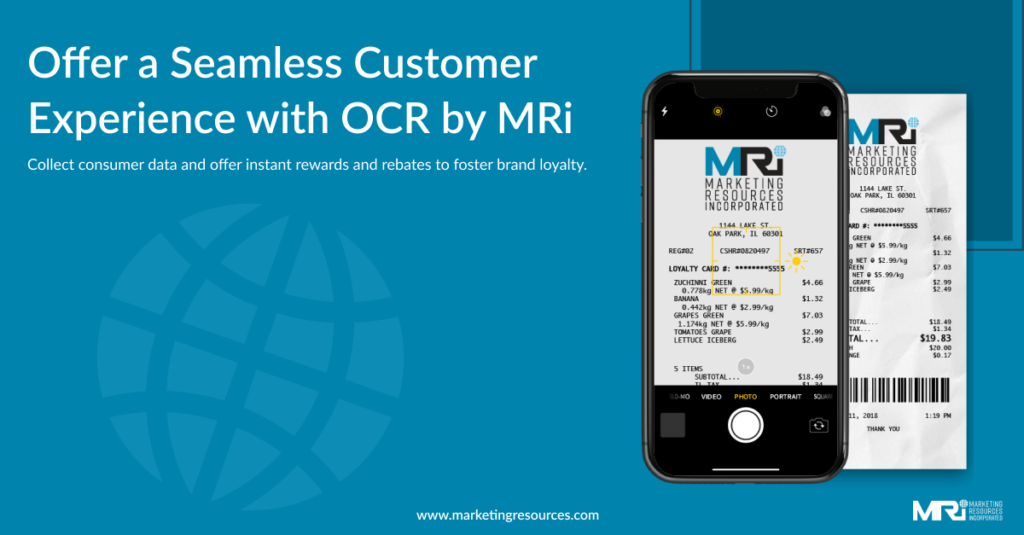 Optical Character Recognition and Promotional Marketing
Due to its increased use, optical character recognition has entered the world of promotional marketing and proven itself to be particularly useful. Savvy marketers have found applications with promotional campaigns like loyalty programs, rewards and rebates, and purchase incentives, to name a few.
Support your brand's promotional marketing efforts with a number of industry-leading digital services to boost its effectiveness and delight your customers.
OCR to Support your Brand's Promotional Marketing Strategy
All successful promotional marketing campaigns are founded on a strong, purpose-driven idea. At MRi, our unique IDEA approach (see what we did there?) supports brands, guiding them every step of the way, from identifying their purpose to analyzing their campaign's results.
Optical character recognition is just one tool in our wide belt that we use to help brands understand their consumers on a deeper, more comprehensive level.
For example, using receipt scanning data collection, brands can analyze purchase history data to accurately determine which products preform well with their most valuable customers (and which ones don't) and adjust their product lines accordingly.
As mentioned, OCR is a convenient and accurate way of aggregating valuable customer data. Your brand can unlock important purchase history, location data, and much more with each scan submitted. Once you've collected some data, taking a closer look at what it tells you allows your brand to better understand your customers and more effectively target them in the future.
Supporting your Brand's Loyalty Program
OCR technology supports a robust customer loyalty program in a number of ways. Including the ability to instantly and easily convert physical items into digital files is hugely beneficial to the program as a whole.
Many loyalty programs offer rewards or rebates to their loyal customers after a certain number of visits or purchases. Tracking this progress can be quite tricky. An archaic and unfortunately all too common way of tracking is to simply do so by hand. How many punch cards are sitting in your wallet getting wrinkled right now? Even one is too many.
Offer your customers an easier and frankly, more fun way of tracking their loyalty progress by implementing optical tracking and visual recognition. Meet your consumer's needs and offer them instantaneous digital rebates and rewards with advanced OCR technology. With visual recognition as an aspect of your brand's digital rewards program, users can simply snap a photo of either a product, receipt, QR code, or really anything you can think of in order to receive their rewards.
For expert advice and even more ways optical character recognition can benefit your loyalty program, schedule your free consultation with one of our dedicated promotional marketing experts today.
Promotional Games and Visual Recognition
Promotional games like collect-to-win and instant-win games are immediately enhanced with the addition of digital visual recognition.
Visual recognition not only adds a layer of fun and whimsy when presented to users, but it can also prevent your brand's promotional games from falling victim to fraud. Validate a consumer's purchase and make them feel like they're using cool, futuristic technology? Talk about killing two birds with one stone.
Brands like MTN DEW are already turning to MRi and our industry-leading OCR technology to secure their promotional games. Encouraging MTN DEW fans (who isn't?) to purchase one of each of their 50 unique bottles celebrating the 50 U.S states, MTN DEW trusted our visual recognition technology to confirm that loyalty fans purchased each state's bottle. As always, MRi's proprietary unique code system and visual character recognition software ensures each purchase is easily validated when entered by the user and offers the MTN DEW brand added back-end security and data.
Enhancing Your Brand's Promotional Marketing
The opportunities to benefit from optical character recognition expand far beyond just the few we listed above. For even more applications, check out some of the work we've done in the past, or contact one of our promotional marketing experts for a free consultation on how your brand can benefit from OCR technology.