As a marketer, the number one most common question you'll be asked about the campaigns you run is "what's the ROI?" It's a fair question and one that's probably always on your mind. Ensure your brand gets the most out of every penny spent (and you look like a hero in your annual review) by maximizing your promotional campaign participation with our simple tips below.
Whether your campaign is active and can use a boost, or is still in the planning stage, our team of promotional marketing experts has the knowledge and experience your brand needs to run a successful campaign.
Boost on Social Media to Increase Promotional Campaign Participation
According to Statista, 82% of Americans age 12 and older use at least one social media platform regularly. As a brand, chances are that your target audience is online waiting for you to reach out to them. Don't miss out on this opportunity to meet them where they are! Share your brand message and details about your promotional campaign widely across your social channels in order to get the word out.
To get the most engagement on your social media posts, follow our best practices and advice:
Post at the right time- dive into your social media account's analytics to find out exactly when your audience is online and post at those times to improve engagement. Unfortunately, LinkedIn does not provide this metric, but a general rule of thumb is to post in the morning as work is beginning, and towards the end of the workday for your industry.
Use relevant hashtags- Yes, hashtags still matter! While some may be divided on whether or not hashtags should be used, the stats are clear and they are effective tools for expanding your post's reach. Be sure to use relevant hashtags that generate traffic and avoid misspellings. Our favorite hashtag research tool helps identify popular hashtags, give it a try!
Share images- This one might seem like a no-brainer, but share images! The fine minds over at Buzzsumo have found that social posts that include an image get 2.3X more engagement than text posts! Grab your camera and start snapping some photos!
Share video- Just like images, video posts get significantly more engagement on social media. Viewers are more likely to want to watch an informative video than read a long article, and the more time they spend engaging with your content, the more you can share with them! It's a win-win.
While these tips are great for general social media advice, we have a ton more over on our blog. Check it out!
Not only can you promote your campaign on social media, but you can also use it as a tool to collect entries and boost your promotional campaign participation. Participants can enter via a like, comment, share, post, tag, or any combination of these on social media. Liking a post is much easier and takes less time than sharing a unique video post, so keep this in mind when selecting how to execute a promotional campaign via social media. Generally, the fewer barriers to entry, the more entrants your campaign will get. If you're looking to simply boost your promotional campaign participation as much as possible, consider making your social media entry mechanics as easy as possible. This may open your campaign up beyond just your target audience, though.
For advice on how to navigate your campaign's social media strategy, contact one of our consultants.
Include In-Store Promotional Aspects
In-store promotions are another effective way to maximize your promotional campaign participation. Incorporating an in-store promotional aspect as part of your larger campaign offers another lucrative opportunity to capture more participation.
Especially recently, with the further loosening of mask and vaccine mandates across the country, consumers are flocking back to retail locations. Catch their attention (and more importantly, their money) with an attractive and effective in-store promotion.
The average supermarket carries just under 40,000 products. That's a huge playing field with literally thousands of other brands vying for the same consumers you want. Stay competitive and delight your customers with a campaign motivating enough for them to purchase your brand.
Consumers don't want to miss out on a great deal, a fun time, or a chance to win. Offer them what they want, and make it easy enough for them to participate while they're out running their errands. Who doesn't love to cross two things off their to-do list at once?
US grocery stores average between 29 and 30 million shoppers a day Monday through Thursday. Get your brand in front of those shoppers and boost promotional campaign participation by allowing them to enter your campaign in-store.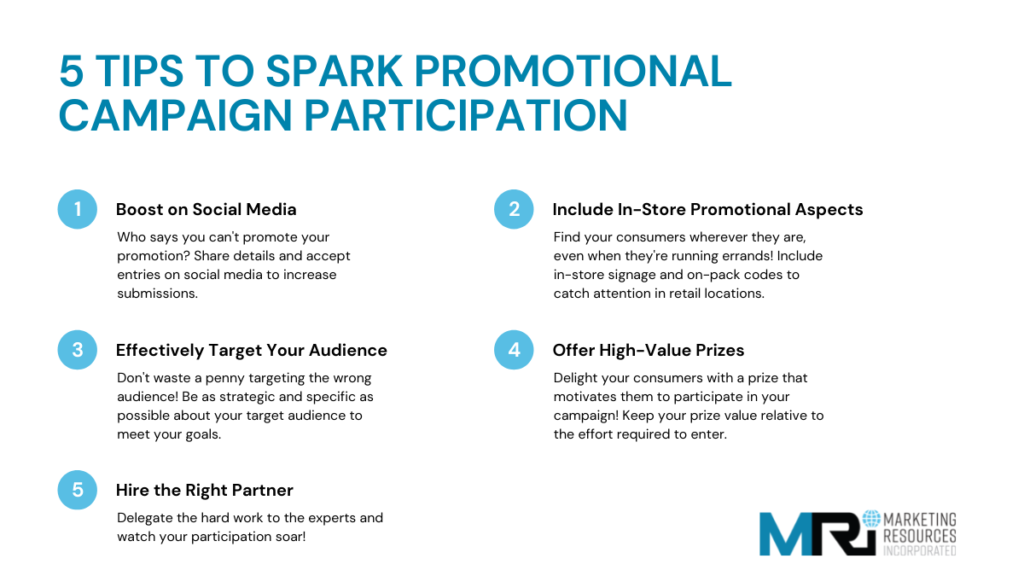 Offer a High-Value Prize to Boost Promotional Campaign Participation
Another way to increase your promotional campaign participation is by offering a high-value prize that your consumers will want to win. Give your consumers what they want, and watch them flock to your campaign to sign up and enter.
You could have the most exciting promotion in the world, but without an enticing prize, your program will suffer. Who will want to enter? On the other hand, a great prize can make even the most simple of promotions exciting for consumers! This encourages them to spend the time or effort it takes to enter your campaign.
"High-value" means something different to everyone. If you're a fast-food brand, "high-value" might be a free meal or two for guests. A luxury car brand might not want to offer the same prize. Does the actual, intrinsic value of the free meal decrease when offered by a luxury car dealer? Of course not. What does change, however, is the consumer's perspective. Be sure to keep this in mind when selecting a reward for your promotional campaign.
In general, you'll want to offer a prize that is about equal to the effort required to enter and the value of an entry.
High-Value Prizes are Relative
For example, let's continue with the comparison between a fast-food brand and a luxury car dealership. With fast food, it's usually relatively easy to enter those types of promotional campaigns. In fact, oftentimes, people will visit a restaurant and not even realize they've entered a campaign simply by purchasing a qualifying product (like a drink or fries with a game code). These entrants don't exchange their own personal information (I've never given a cashier my contact information in exchange for a game piece), so the brand running the promotion doesn't receive that valuable information. Instead, the consumer is rewarded with a (usually small) tasty snack, and the brand is rewarded with the fact that they've just delighted their consumer and fostered brand loyalty. While this customer is a great one, they're not spending much money, time, or effort on this particular campaign, and they're rewarded accordingly.
A luxury car brand, on the other hand, is likely to offer a relatively higher-value reward. Simply because the pay-off for being a customer of theirs is much higher than that of the fast-food brand. Loyal car customers spend a significant amount of time and money with a particular brand over the life of their car. The value of this customer is, therefore, higher than the fast-food customer, and they're rewarded with a "better" prize.
Wherever you fall on the spectrum, just remember that your consumer's perception of the value of the prize is what really matters at the end of the day. The higher value the reward, the more likely you are to boost your promotional campaign participation.
For more insight on offering high-value prizes, check out our guide here.
Target Your Audience Effectively
As with all marketing strategies, your brand can boost your promotional campaign participation through effective audience targeting. Ensure every dollar is spent wisely with strategic audience targeting.
Prior to launching your campaign, identify your brand's purpose. Why are you running this campaign? What are your goals? What segment of your audience can help you reach these goals?
As a marketer, understanding your target audience is vital. This information will define every marketing plan and strategy you execute. For example, target females where women typically shop and gather. Do the same for men. Then teens. Replicate this for each demographic you're trying to reach.
However, once you've identified your brand's purpose and target audience, narrowing your outreach to those folks, in particular, can help ensure that your campaign gets in front of the right audience. Those who see your brand's messaging are much more likely to engage with it.
In addition to increasing ROI, understanding your target market allows you to build relationships and better communicate with consumers. Do your research to get to know your audience.
Hire the Right Partner to Boost Your Campaign Success
Finally, maximizing your brand's promotional campaign participation can be achieved through a number of different strategies, beyond what we've listed here. The most important aspect of campaign execution is ensuring your partners are aligned with your business goals.
In the intricate and ever-changing world of promotional marketing, you're not alone. Hiring a third-party sweepstakes administrator allows your company to delegate the heavy lifting and technical work to promotional marketing experts.
An experienced partner can make on-the-fly suggestions to ensure the success of your campaign and boost your campaign participation. The right partner will work with your brand to identify your purpose. They'll then strategize how to achieve your purpose, and handle the execution of your campaign as well. Their value to your brand's promotional success cannot be overstated.
Marketing Resources and Your Promotional Campaign Participation
​​No matter where you are in your promotional campaign planning, we're here to help. Whether you're ready to execute and just need to delegate the logistics to a trusted administrator and prize fulfillment agency, or you're looking for advice on your brand's promotional strategy, Marketing Resources is here to help. MRi commits to helping brands maximize their campaign participation.
Contact one of our experts today to build deeper relationships with your consumers.